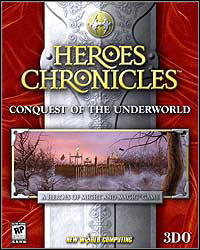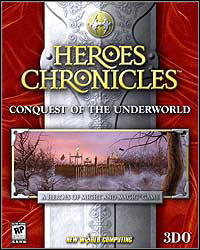 Heroes Chronicles: Conquest of the Underworld
PC
Heroes Chronicles: Conquest of the Underworld is the second game in the spin-off miniseries of the well-known turn-based strategy game series.
Heroes Chronicles: Conquest of the Underworld

Release Date PC

27September2000
developer: New World Computing publisher: 3DO Company Official website

game language: English
The producer of the series Heroes of Might & Magic - company New World Computing, after releasing two add-ons to the third part of the game, decided to change his strategy a bit to create another saga. It is aimed rather at casual players, offering a range of relatively short campaigns with a low level of difficulty. The series uses a truncated engine Heroes III: The Shadow Of Death, devoid of multiplayer options and the ability to play single scenarios. Individual parts of Chronicles can be treated as additional campaigns, but released in the form of independent games, not requiring the third part of the saga to work.
The plot of the series Heroes Chronicles is an epic story about the fate of the immortal hero called Tarnum, presented in several separate episodes. Recognized as unworthy of the gates of paradise, our hero seeks redemption for the sins committed in earthly life, fighting evil and counting on the favor of the gods. In the second part of the saga, Tarnum is sent by his Ancestors to the aid of Queen Allison of Erathija, to help the Queen Allison of Erathija. Her father's soul, Rion Gryphonheart, was kidnapped from Paradise after her death and imprisoned in the depths of the Underground. Along the way, our hero learns the tragic story of his sister, who almost died in his hand. However, she was saved by Gryphonheart and became pregnant with him. Tarnum defeats levels in the Underworld, eliminating enemies and finding out who is responsible for Rion's imprisonment. With the help of the demon Deezeliska Tarnum finds and defeats Jorma, but he fails to protect Allison, who is kidnapped by the demon. Our protophile dies, but thanks to his immortality he returns and after regrouping his forces he defeats Deezeliska, saving Allison and receiving the title of queen's defender.
Conquest Of The Underworld was released in full Polish language version as part of the Heroes Chronicles: Complete Saga package, including chronologically the first four episodes of the saga.
.
Please let us know if you have any comments or suggestions regarding this description.
Last updated on 30 July 2013
Game mode: single player
Media type: 1 CD
User score: 8.2 / 10 based on 154 votes.
Age restrictions Heroes Chronicles: Conquest of the Underworld: Good for all ages.
Heroes Chronicles: Conquest of the Underworld System requirements
Recommended:
Pentium 133 MHz
32 MB RAM
Windows 95/98/NT4