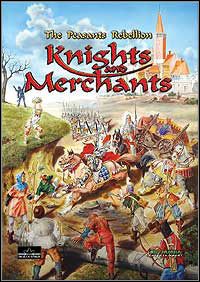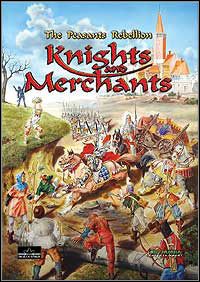 Knights & Merchants: The Peasants Rebellion
PC
Continuation of the strategy and economic game Knights & Merchants: The Shattered Kingdom. The action was set in the Anglo-Saxon realities of the 13th century AD, and the task of the players is to unite numerous smaller states and provinces into one strong kingdom.
Strategy | Economic | RTS | the middle ages | Isometric view | 2D
Knights & Merchants: The Peasants Rebellion

Release Date PC

01November2001
developer: Joymania Entartainment publisher: TopWare Interactive / Zuxxez

game language: English
Knights and Merchants can be described as a strategic economy simulation. In the main, the economics play a major role in this real?time action game. The player can manufacture different products, making use of numerous buildings and producer goods of the Middle Ages period. He can use his serfs to construct and maintain buildings and roads. The economical structuring is very specific. You manufacture finished products using various raw materials which go through your production processes. All these manufacturing systems are highly detailed and visually understandable, enabling fast and dependable control of your economy.
All the graphics (with the exception of the landscape), are bitmaps, which are either pixelled or calculated using Autodesk's 3D MAX program. They are flexibly structured and merge perfectly with the light and shadow conditions of the corresponding background. The background was created using the Gouraud?Shading Routine which enabled realistic high ground imagery. Creating the landscape, with true?to?nature hills, valleys and plains, was extremely complex. To obtain a proper, natural image of different types of terrain, we used up to 256 different bitmaps, laid out in rectangular sections, each roughly 40 by 40 pixels. The animated water in the landscape was created using palette rotation. Game animation is based on 10 images per second. The shadows of countless objects were generated by a black grid pattern, which is almost impossible to recognize as such, due to the 800 by 600 pixel resolution. A real shadow is technically programmable, but not practicable in this case, due to the high cost of the calculation processes.
Story
Knights and Merchants recreates the era of the Middle Ages. Apart from the purely fictitious geography of our world, all game elements and scenes are based on the Anglo-Saxon period, ca. 1200 A.D. And we haven't used imaginary elements like fabled creatures, either. The player takes on the role of a ordinary captain in the Palace Guard. A conspiracy against the king catapults the captain into a situation where he finds himself responsible for the defense of the last royal province. This is all that remains of the shattered kingdom, which has been split into numerous small principalities and fiefdoms. And now even the king himself, ensconced in his capital, is threatened by enemy armies. This is the starting point of your Middle Ages adventure. Now you must win back all those provinces which once belonged to your king.
Features
* Lush realistic landscapes based on the European countryside. Hills, valleys and plains make a natural life-like world that features a variety of terrain sets and weather conditions
* Over 30 Single Player Missions
* 10 Multiplayer maps with a variety of scenarios. Players can choose from battles or village building scenarios
* Up to 6 can take part in multiplayer battles through an IPX network, TCP/IP Internet or a direct modem-to-modem or serial connection
* About 25 different buildings, including horse stables, farms, schoolhouses and gold mines
* More than a dozen different types of characters, including winemakers, serfs and town wenches
* Over 10 different troop types, including archers, scouts, knights, bowman and barbarians.
* Instant action. On screen hints and tutorials provide easy guidance to get started
* Realistic landscape display using complex Gouraud shading techniques
* Production processes and movement of military units portrayed in detailed animation- Rendered cut-scenes.
Game mode: single / multiplayer Multiplayer mode: Internet Player counter: 1 - 6
User score: 8,5 / 10 based on 1490 votes.
Age restrictions Knights & Merchants: The Peasants Rebellion: Good for all ages.
Knights & Merchants: The Peasants Rebellion System requirements
Recommended:
Pentium II 300MHz
64MB RAM