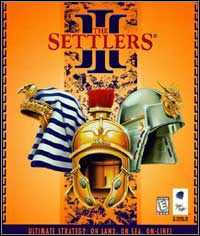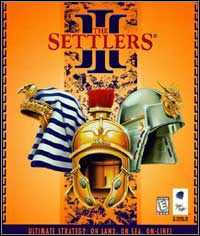 The Settlers III
PC
Third installment of The Settlers series produced and released by Blue Byte Software. The game, although it belongs to the real time strategy (RTS) genre, is characterized by a very complex economic aspect.
Strategy | Economic | RTS | Isometric view | Ancient history | 2D
The Settlers III

Release Date PC

13October1998
developer: Ubisoft Blue Byte publisher: Ubisoft Blue Byte Official website

game language: English
The gods Jupiter (Romans), Horus (Egyptians) and Ch'ih -Yu (Asians) have unfortunately lost some of their shape, due to gluttony that comes with centuries of reigning. During one of their parties, HE orders them to appear in front of HIM, through HIS private secretary Q'nqüra. HE is the highest of all gods in the universe. HE is very angry, Q'nqüra gloats, and it's true that the god of all gods wants to change their terrible lives and grant them one last chance to straighten up. For the very last time, each of them may nominate the best one of their race as the leader for a new beginning.
They are expected to find a new people with his help, to build up a new economy, and to prove themselves by fighting other races. However, only one of the three races can assume leadership, and only the god whose people prevail, won't be punished. And this punishment is really gory...
The three gods remorsefully get on their way in order to find the right man...
The Settlers III contains three different campaigns: Roman, Egyptian, and Asian. Just like in the preceding games, the goal is to build up an economy. In The Settlers III, however, the player can choose the races he wants to use. Depending on the god they're adoring, the people have different characteristics and skills, and either they're good at construction or at developing strategies.
The characters of the different races have varying physical features, wear distinct clothing, live in different houses and build special temples for their god. The player assumes the role of the leader chosen by his god. All Settlers' people are hard-working and energetic, and therefore immediately start building houses and making food from natural resources like wood, rocks, deer, fish, plants and minerals. There are foresters and lumberjacks, geologists, miners, farmers and carpenters – all in all, more than 30 different types of characters follow the player's instructions! But soon he discovers: It's not easy looking after the well-being of an entire race! Here there's no wood, over there the construction work comes to a halt, and somewhere else the lumberjacks are no longer working because they've run out of food. And the Gods should not be forgotten either, because they could send catastrophes like blazes and plagues of locusts! Temples and other shrines must be built. The priests and temple guardians adore the Gods by making generous sacrifices.
The player must obviously plan ahead, so his economy functions and prospers – and it has to, because the neighboring people and their gods are always on the guard! The better the economy functions, the better the chances are to protect oneself from the neighbors' assaults or to invade enemy territory. There are sword fighters, archers, spear throwers and scouts. The military equipment is also quite impressive: In The Settlers III," fortresses, towers, and ships are now accessible for the Settlers' characters. The authentic pattern of individual military movements can be controlled by the player. The goal of each of the three campaigns is to defeat the other two races, because this is the only way for the triumphant god to escape his terrible punishment....
Features
Single Player Features:
See 150 unique characters brought to life with over 50,000 phases of animation!
Build a flourishing economy with over 30 different trades: woodcutters, stonemasons, hunters, fishermen, farmers, brewers, miners, merchants, priests and many more!
Colonize new lands with lush rolling hills, sparkling rivers and seas teeming with wildlife and vegetation!
Over 110 different buildings can be built, many of which can be garrisoned for extra protection!
Set sail on merchant and transport ships, erect fortresses and towers. Lead archers, swordsmen and spearmen into battles raged in real-time!
Built-in training mission gives you the ability to start playing right out of the box!
Enjoy many new features and options that have been recommended to us by Settlers fans from around the world!
Multiplayer Mode, On-line and Internet Features:
Massive internet multiplayer gaming on Blue Byte's Settlers IIIŽ Servers!
Easily find friend or foe, wage team war, chat with players all over the world, play full tournaments and team up with over 10 players!
Supports direct play over the internet as well as LAN play!
Game mode: single / multiplayer Multiplayer mode: Internet
Media type: 2 CD
User score: 8,8 / 10 based on 1051 votes.
PEGI rating The Settlers III
The Settlers III System requirements
Recommended:
Processor Pentium 166 MHz (or compatible)
32 MB RAM
2MB graphic card compatible with DirectX
Windows 95/98/NT4