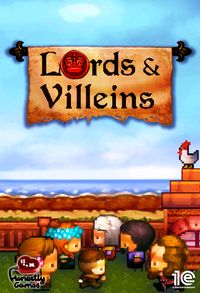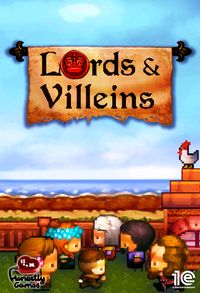 Lords and Villeins
PC
An economic strategy in which we manage a medieval village. In Lords and Villeins, we do not deal with individual settlers, but negotiate with the heads of families and watch them fulfill their duties, while finding time to play and establish relationships.
Strategy | Economic | the middle ages | 2D | indie games | city builder
Lords and Villeins

Release Date PC

10November2022
developer: Honestly Games publisher: Fulqrum Games / 1C Entertainment Official website

game language: English
Lords and Villeins is an economic strategy in which we manage a medieval settlement. The production, inspired by such productions as RimWorld, The Settlers and The Guild, was developed by independent studio Honestly Games and published by Fulqrum Publishing.
Storyline
In Lords and Villeins, we play therole of the head of a noble family that has been given an undeveloped piece of land by the ruler. Our task is to build a prosperous settlement, which will allow us to expand and secure our dynasty's sphere of influence.
Mechanics
In Lords and Villeins we view the action from a bird's eye view. During the gameplay, everything related to the functioning of the settlement rests on our shoulders. So we have to build houses, production and storage buildings and public places, take care of the needs of various social groups (such as peasants or nobles) and assign them various professions (which are then passed down from generation to generation), as well as enforce the law. In addition, you must keep custody of the acquisition of various raw materials, create efficient production chains and collect taxes.
Since our settlement is only a part of a larger whole, as its administrator we must also deal with the Church and fulfill the ruler's whims. The latter include training soldiers or fielding an army when necessary, as well as paying tribute. The need to simultaneously please the king and take care of his subordinates can be a source of problems. Residents who feel exploited may refuse to obey orders; and when too much is taken from them, it can lead to famine. On the other hand, if we fall foul of the ruler, he may decide to shorten us by the head and hand over our settlement to a more competent (from his point of view) administrator.
Interestingly, the game does not make us bend over every villager or nobleman. Instead, we deal with groups of residents with whom we negotiate through the heads of their families. If we do everything right, over time our activity bears fruit - we can watch the settlement grow by sight as time passes (evidenced, among other things, by the changing seasons), and our subjects fulfill their duties, while having time to play, make friends and closer relationships, or eventually start their own families.
Technical issues
Lords and Villeins has simple, but at the same time colorful and clear graphics made in pixel art technique. The maps are procedurally generated, so each game here looks slightly different from the previous ones.
Game mode: single player
Age restrictions Lords and Villeins: Good for all ages.
Lords and Villeins System requirements
Minimum:
Intel Core i5-3470 3.2 GHz
8 GB RAM
graphic card 2 GB GeForce GTX 660 or better
750 MB HDD
Windows 10 64-bit
Recommended:
Intel Core i5-6600K 3.5 GHz
16 GB RAM
graphic card 4 GB GeForce GTX 960 or better
750 MB HDD
Windows 10 64-bit