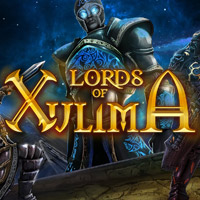 game language: English
game release date for PC:
14November2014
Lords of Xulima is a fantasy-based RPG with a turn-based combat system, inspired by the classics of Ultima, Might & Magic, Wizardry or Baldur's Gate genre. The title is the debut of the independent Spanish studio Numantian Games.
The story of the game tells an ancient legend about nine gods Xulnari, who descended to Earth, composed at that time from one continent called Rodinia. After many attempts, which resulted in various imperfect creatures, the gods finally created man and populated the world. They themselves moved towards an artificially created continent called Xulima, which with time was only mentioned in legends. After a long period of peace in the world, however, a great war broke out between powerful kingdoms, which over time began to threaten the whole human race. Desperate people decided to turn to the ancient gods for help. These, however, were absorbed by their own war.
In the game we play the role of the chosen man - a traveler named Gaulen, who sets out east to cross the ocean and find the mysterious land, Xulima. Its purpose is to reach the seat of the gods and restore balance in the world. During the journey our hero is accompanied by a team of five previously created characters. They belong to one of nine classes, both typical for the species (magician, cleric, barbarian, warrior, thief, bard, paladin) and original (arcane soldier, divine summoner). Each character can be visually modified and given more than 100 available special skills, which gives almost infinite possibilities of configuring a unique team, tailored to our preferences and individual style of play.
Most of the gameplay is viewed from a classic two-dimensional isometric perspective, reminiscent of the legendary Baldur's Gate, among others. The plot of the game is non-linear, and the creators give players full freedom to explore the continent, diverse in terms of environment (forests, deserts, mountains) and climate. More than 30 dark crypts and dungeons await discovery. As in any racial RPG, Lords of Xulima couldn't miss the fight, of course. It takes place in a turn-based system, and the development of events can be observed in the first person perspective, as in the classic scenes of the Might & Magic series. We have more than 100 types of enemies and nearly twenty bosses to defeat, and in each of the battles, apart from the skills of the heroes, we can also use a number of magical scrolls and divine blessings.
Lords of Xulima skillfully combines the specific atmosphere of RPG classics with an intuitive interface and modern setting. The game was created on the author's own graphic engine, combining hand-drawn, two-dimensional maps and sceneries with pre-rendered, three-dimensional models and refined animations of characters.
Please let us know if you have any comments or suggestions regarding this description.

Game score 7.4 / 10 calculated out of 244 players' votes.
Age Rating
age requirements: 12+
System requirements
PC / Windows
Recommended: Quad Core 2.66 GHz, 4 GB RAM, 1500 MB HDD, Windows 7 64-bit
Minimum: Dual Core 2.0 GHz, 2 GB RAM, 1500 MB HDD, Windows XP