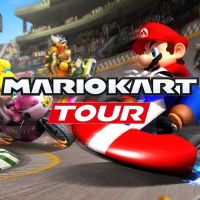 Mario Kart Tour
Mobile spin-off of the Mario Kart racing series. In Mario Kart Tour we play as the characters known from the Super Mario series and race both on the well-known and liked tracks, as well as on completely new routes inspired by real cities.
Racing | play for free | Kart Racing | Mario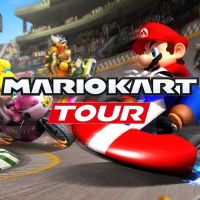 Mario Kart Tour is a spin-off of the Mario Kart series, designed for mobile devices. This racing game was developed and released by Nintendo and is distributed in a free-to-play model.
Mechanics
In the Mario Kart Tour we take part in crazy go-kart races, playing the heroes known from Super Mario games. Among the characters there are famous brothers Mario, as well as princess Peach, Yoshi, Bowser or even Toad. We fight for victory both on the well-known and popular tracks from the remaining parts of the series, as well as on new tracks inspired by real cities. The range of available locations varies every two weeks, some of which are accompanied by special skins for characters.
The driving system is arcade and the go-kart is manoeuvrable with one finger. The trails were paved with various obstacles, jumps and special ramps allowing to ascend to the sky. In addition, you can find power-ups on them, whose skillful use increases our chances of winning. As the latter can also be used by our opponents to defend themselves against them, we can activate the Frenzy mode, in which for a short while we become untouchable, receiving an unlimited number of selected "firecrackers" at our disposal.
As we progress we get stars that can be exchanged for new vehicles and characters. In addition to the standard races in which we try to cross the finish line in the highest possible position, there are also special challenges to check out.
Game modes
Although Mario Kart Tour only allows you to play alone, online rankings are a substitute for multiplayer mode, where you can show off your achievements..
Technical aspects
Mario Kart Tour has colorful, three-dimensional graphics in an eye-catching style characteristic of the series.
Age Rating
age requirements: everyone
System requirements
Android OS
Additional information (AND): Internet connection is required.
Apple iOS
Additional information (iOS): Internet connection is required.