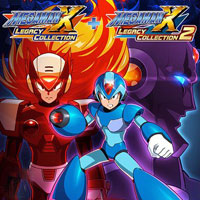 Mega Man X Legacy Collection 1 + 2 is a collection of two Mega Man X compilations prepared for the 30th anniversary of a Mega Man series. The first game debuted in 1993, and the last one appeared eleven years later. Both Mega Man X Legacy Collection and Mega Man X Legacy Collection 2 can be bought separately or as a part of this compilation all major platforms.
Plot
Compared to the classic Mega Man titles, Mega Man X series is known for a much darker setting and a more serious story. All games take us to an Earth of 22nd century, in which humans managed to create Reploids – androids with a free will. But some of them opposed their creators and are known as Mavericks, with one hero standing to oppose them – developed by Dr. Light Mega Man. He is assisted in his mission by Zero (a creation of Dr. Wily) and Axl (a shapeshifting Reploid with teenager's psyche).
Game mechanics
Every title included in Mega Man X Legacy Collection 1 + 2 is a two-dimensional platformer using a side perspective. We traverse futuristic locations filled with traps and enemies to defeat. Unlike its big predecessor, Mega Man X not only takes weapons of defeated enemies but can also wall jump and slide across a sloping surface. What's more, our hero collects more equipment parts to increase his battle potential.
Game modes
While games that make Mega Man X Legacy Collection 1 + 2 focus solely on single player experience, players can still rival each other through online rankings. We can show off our scores in a special game mode, in which we fight to bosses at once with three weapons of our choice. There is also a video material explaining events that took part before the first Mega Man X and virtual museum filled with all kinds of attractions.
Technical aspects
Games that make Mega Man X Legacy Collection and Mega Man X6 along with Mega Man X6 from the second compilation use pixel-art two-dimensional visuals; only Mega Man X7 and Mega Man X8 use 3D. While all titles offer refreshed graphics, they can be also played in their original forms.
In case of PlayStation 4 and Xbox One consoles, Mega Man X Legacy Collection 1 + 2 was published on two discs with both compilations included. On the other hand, Nintendo Switch version features a single cartridge with the first collection, along with a code for downloading the second one from the Internet.
Similar games:
PEGI Rating
System requirements
PC / Windows
Recommended: Intel Core i5-3570 3.4 GHz, 4 GB RAM, graphic card 2 GB GeForce GTX 760 or better, 7 GB HDD, Windows 10 64-bit
Minimum: Intel Core i3-550 3.2 GHz, 2 GB RAM, graphic card 2 GB GeForce GTX 660 / Radeon HD 7850 or better, 7 GB HDD, Windows 7 64-bit