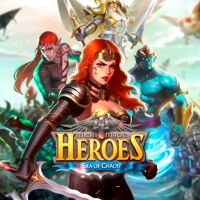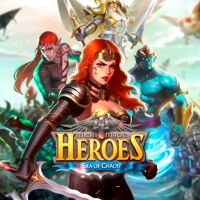 Might & Magic Heroes: Era of Chaos
Strategic game with RPG elements embedded in the popular high fantasy universe Heroes of Might & Magic. Might & Magic Heroes: Era of Chaos tells the story of Queen Catherine Ironfist, trying to reclaim the war-torn Kingdom of Erathia.
Strategy | fantasy | turn-based | play for free | Might & Magic | RPG elements
Might & Magic Heroes: Era of Chaos is a mobile free-to-play installment of the popular Might & Magic series. Originally it was an exclusive title for the Chinese market, and its development was the responsibility of Playcrab, working together with Ubisoft. An unusual move on the creators' part creators was the implementation of real-time combat in the game, in contrast to majority of the series, where we usually faced opponents in turn-based systems.
Plot
The action of the game takes place in the war-torn Kingdom of Erathia. Its former queen, Catherine Ironfist, returns to her land years later to recover and rebuild the country. Her mission is supported by legendary heroes who command her with armies of mythical beasts, brave knights and powerful sorcerers.
Mechanics
Gameplay in Might & Magic Heroes: Era of Chaos is largely based on formula known from other parts of the series. We have a castle to expand, a world to explore, and battles with enemies to be fought. The map is divided into areas consisting of a specific number of segments, on which we move our troops. The number of fields that we can cover in one turn is limited, so we have to plan our actions carefully. It is worth estimating whether the journey to the treasure visible in the distance will not end with leaving the troops vulnerable near a powerful enemy army, who will easily defeat us in battle. The resources found during the exploration of Erathia are needed for the development of the castle. Each improvement in our headquarters brings tangible benefits in the form of better units, more income and more effective defenses. Artefacts hidden in mysterious ruins increase some of our heroes' statistics, and by defeating groups of enemies we ensure an additional flow of cash, experience and useful items.
There are more than 40 types of units available in the game. In addition to the heroes known from other installments, with their unique powers, weapons and artifacts, we can recruit Gryphs, Archangels, Dragons, Orcs, Knights and other creatures. All units behave differently in battle. Combat is divided into two parts: setting up battle formation and the actual clash. During the first stage we put our soldiers on a special board imitating the battlefield. It is worth remembering to place individual units where they will be most effective, e.g. archers in the back, and "tank" units in the first line, etc. In combat, our forces move forward on their own - we are unable to change the formation during the battle. We can only influence the course of the battle by performing actions with our hero, using active (striking the enemy) and passive (strengthening allied units and weakening enemy stats) abilities. All battles take place in real time.
Game modes
The main game mode is the single player compaign, but the creators have also prepared multiplayer modes. We can try our strength in a special arena for PvP battles, where battles with other players can be fought in real time, or in "asynchronous" mode (each side makes decisions about the actions of its heroes, and when one of the characters issues their orders, the other player receives an appropriate notification and can proceed to give the orders themselves). It is also possible to create and join a guild. Together with its other members we can storm castles and perform special missions, thanks to which we climb to the top of the guild ranking and get valuable items. Additional online activities also include events and challenges that enable us to earn further bonuses.
Technical aspects
The game stands out from other parts of the series in terms of graphics. The creators abandoned the typical fairy tale-like design and replaced it with 2D manga-inspired graphics.
Game mode: single / multiplayer Multiplayer mode: Internet
App size:
Age restrictions Might & Magic Heroes: Era of Chaos: 18+
Might & Magic Heroes: Era of Chaos System requirements
Additional information:
Internet connection is required.
Additional information:
Internet connection is required.