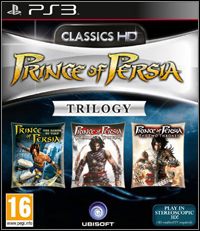 game release date for PS3:
19November2010
Prince of Persia Trilogy is a compilation of three cult installments of Prince of Persia series, originally released in years 2003-2005 on PC, PlayStation 2, Xbox, and Nintendo GameCube. This collection, created by Ubisoft company, was properly upgraded for capabilities of PlayStation 3 console.
With this compilation players get to relive the amazing adventures of the titular Prince of Persia and the story of the legendary Sands of Time. In Prince of Persia: The Sands of Time you meet the main hero, learn time manipulation, master combat, and get used to well-thought gameplay model. Prince of Persia: Warrior Within features a much darker story, throughout which you develop your fighting and acrobatic skills. In Prince of Persia: The Two Thrones you witness the protagonistís split personality, which allowed the script writers for many unexpected turns of events.
Each of the three games included in the collection was properly upgraded using PlayStation 3 capabilities. First of all, the developers increased the resolution to a high definition standard (720p), replaced textures for sharper ones, as well as implemented anti-aliasing and 3D support. All three adventures of the Prince of Persia also sport smoother animations.

Game score 8.4 / 10 calculated out of 113 players' votes.
Expectations before the premiere: 8.7 / 10 calculated out of 11 players' votes.
Similar games:
PEGI Rating