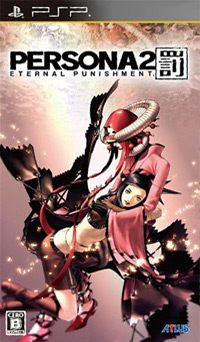 game language: Japanese
game release date for PSP:
17May2012
Shin Megami Tensei: Persona 2 - Etrernal Punishment is a jRPG game that debuted in Japan and the USA in 1999 on the Playstation console. Persona is a side title of the Shin Megami Tensei series, which dates back to 1987. Both series have a dedicated group of fans, both in the Land of the Cherry Blossom and in other parts of the world. The Japanese studio Atlus is responsible for the production of the original and its conversion to PSP. Persona 2 is a dylogy consisting of Innocent Sin and Eternal Punishment. Their protagonists are the same characters, but they take place in two alternative realities, depicting similar events from a different perspective.
The main character is Maya Amano, a journalist working for a youth magazine. Together with an acquaintance policeman, he takes part in the investigation into the case of serial murders committed by the mysterious Joker. The murderers' searches take them both to a secondary school in Sumaru city, where the Innocent Sin action took place. As in the previous version of the game, in the world of Eternal Punishment even the most strange gossip and rumors become incomprehensibly true. The player can manipulate their flow and content, thus influencing the plot.
Unlike the better known third and fourth parts of the series, which were released on PlayStation 2, the second part of Persian is more focused on fighting, and players have less freedom in deciding the plot. For most of the game we move around the city, talk to the characters we meet, perform the tasks they have commissioned, which are primarily related to the fight against demons haunting Sumaru City.
The action of the game, both during combat and exploration of the city, is presented in a two-dimensional isometric projection. The turn-based combat system allows you to use both the personal power of our heroes and the more traditional methods of eliminating enemies, including the use of white weapons. Interestingly, we are not only fighting demons, but we can also negotiate with them. Trying to intimidate them, sprinkling compliments or answering their tricky questions, we gain their favour, and this results in tarot cards and other items that make it easier to get promoted and gain new power. Demons can also ask for money or help to spread rumors, making it easier to navigate the location.
Eternal Punishment on PSP is not an ordinary port and introduces many improvements, both in gameplay and graphics. The appearance of the interface has been improved and the image itself has been matched to the panoramic screen of the console. The soundtrack was remastered and a number of improvements were made to the combat system, as well as hero portraits, animations and film interludes. Another novelty is a special script written for the new edition, which broadens our knowledge about the game world.
Please let us know if you have any comments or suggestions regarding this description.
Age Rating
age requirements: everyone