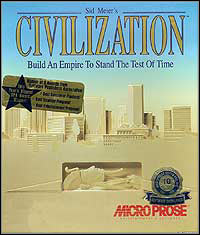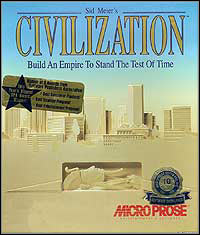 Sid Meier's Civilization
PC
The first installment of the cult economy simulation strategy game series that lets us lead the development of a chosen civilization through millennia. In Sid Meier's Civilization, we start out in 4000 BC and guide our nation to the futuristic times of space colonization.
Strategy | Economic | turn-based | 4 x | sandbox | war strategy
Sid Meier's Civilization

Release Date PC

21April1991
developer: MicroProse publisher: MicroProse

game language: English
Sid Meier's Civilization is a groundbreaking economic strategy game that allows us to freely direct progress of a civilization, starting 4000 B.C. to the end of the 20th century.
The player may manage all the aspects of his state; he may choose to peacefully develop, focusing his efforts on science and culture or, alternatively, set out on conquest campaigns. Simply put: absolute freedom, there's no right or wrong path to victory. Our duties consists of such ones as creating an army, building and developing cities, erecting wonders of the world, researching technology, managing diplomacy, establishing political system, trading and warring.
The creator, Sid Meier, made sure that Civilization has advanced economic and social dependencies, as well as science development and military options, which make the game really feel like the real world, and who wouldn't want to become a god ruling his subordinates for over 6000 years?
Last updated on 14 May 2015
Game mode: single player
Media type: 1CD
User score: 8,5 / 10 based on 1843 votes.
Age restrictions Sid Meier's Civilization: Good for all ages.
Sid Meier's Civilization System requirements
Recommended:
386SX 25MHz
1MB RAM