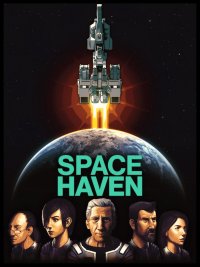 game language: English
game release date for PC:
2022
Space Haven is a strategy game in which players manage the crew of a colonization ship, exploring the uncharted regions of space. The game offers a deep, complex gameplay model, which poses many challenges and forces the player to make complex decisions. The game was created and published by Bugbyte's independent studio (known for developing the Battlevoide series).
Mechanics
In Space Haven the player's task is to manage the crew of the colonization ship. One's responsibilities include taking care of their health, their needs (such as oxygen, place to sleep, safety, protection against hazardous substances, the right temperature, and power generators to keep everything working), giving instructions to individuals, as well as coping with various challenges encountered during travel.
Players' crews have sets of specific skills and qualities that one must take into account when assigning tasks to them. It will also be necessary to pay attention to the mood of the crew - some of them dream of adventures, others eat too much or too little, while there are also those subjected to excessive stress, which can lead to collapse, and consequently even death or aggressive breakdowns.
During the game, players also have to upgrade the ship itself. When observing a ship from the top-down perspective, players decide on the construction or improvement of subsequent sectors - from the plating, through individual cabins, and ending with rooms performing various functions. It is only up to players to design and select the functionality of a unit, but one's creativity is limited by the availability of resources needed for an upgrade or expansion.
During their journey, players will encounter other factions and even alien races. Sometimes it will be a peaceful meeting, while at some points it will be necessary to stand up and fight - including battles with the use of starships.
Game modes
In Space Haven one can only play alone. The basis of the game is an extensive single player mode.
Technical aspects
Space Haven offers quite simple 2D visuals maintained in the pixel-art style. In this respect, the game is reminiscent of older productions from the UFO series, although it is more technologically advanced (the image is displayed in a higher resolution, and the charts and characters are definitely more detailed). The game's artistic style is bound to evoke associations with numerous science fiction works and please the players.

Expectations: 6.8 / 10 calculated out of 18 players' votes.
System requirements
PC / Windows
Minimum: Dual Core 1.8 GHz, 1 GB RAM, graphic card 128 MB GeForce 6200 or better, 250 MB HDD, Windows 7/10 64-bit