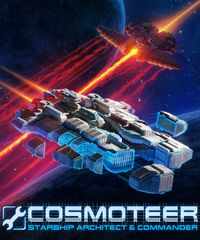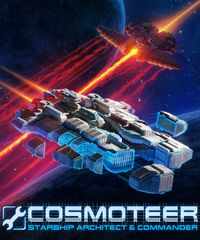 Cosmoteer: Starship Architect & Commander
PC
Sim tactical game, in which we design spaceships ourselves and clash with other ships in interstellar space. Cosmoteer: Starship Architect & Commander lets you play solo or in multiplayer.
Simulation | tactical | 2D | elements of strategy | indie games | space ships
Cosmoteer: Starship Architect & Commander

Release Date PC

2023
developer: Walternate Realities publisher: Walternate Realities Official website

game language: English
Cosmoteer: Starship Architect & Commander is a simulation and tactical game, in which we take control of a self-designed spaceship or a whole fleet of such ships. It was developed by indie studio Walternate Realities.
Game mechanics
Gameplay in Cosmoteer: Starship Architect & Commander is based on two pillars. The first is designing and creating your own spaceship from scratch. You decide on your own the shape of the hull, the arrangement of individual modules (such as engines or weapons) and the layout of rooms (from corridors to crew quarters). Once the ship is ready for use, the crew is put on board, and they have to move around the ship efficiently (piloting the ship, operating weapons or transporting ammunition), so we have to make sure that our project is both coherent and practical. Although our sub-commanders act autonomously and choose their own subsequent tasks, we can influence their behavior by giving them specific roles and priorities.
The second pillar of fun is space skirmishes. Tactical clashes take place in real time, and during them the key to success is the appropriate choice of the next targets. It depends only on us whether we first decide to destroy the enemy's weapons to exhaust his offensive capabilities, try to weaken his defenses by destroying his ship's shields, or try to immobilize his ship by targeting the power reactor. At the same time, it should be borne in mind that the enemy has similar capabilities, so that we, too, can fall victim to a similar calculation at any time.
Game modes
Playing alone, in Cosmoteer: Starship Architect & Commander we traverse the procedurally generated galaxy, complete various tasks and collect loot and upgrades for our ship. In addition, nothing stands in the way of playing in co-op mode over the Internet or putting your skills to the test (and ultimately testing your ship design) in one of the PvP modes. The list of gameplay variants closes with a creative module, where we can create more ships at will, not looking at any limitations.
Technical aspects
Graphics in Cosmoteer: Starship Architect & Commander is simple, but at the same time colorful and clear, which allows us to quickly get an idea of the situation on board the ship. In addition, the game supports fan-made modifications; players can create their own weapons, modules and other upgrades.
Game mode: single / multiplayer Multiplayer mode: Internet
Age restrictions Cosmoteer: Starship Architect & Commander: Good for all ages.
Cosmoteer: Starship Architect & Commander System requirements
Minimum:
Dual Core 2.0 GHz
4 GB RAM
graphic card 1 GB GeForce GTX 460 or better
2 GB HDD
Windows 7(SP1)/8.1/10
Recommended:
Quad Core 2.5 GHz
8 GB RAM
graphic card 2 GB GeForce GTX 760 or better
2 GB HDD
Windows 7(SP1)/8.1/10 64-bit