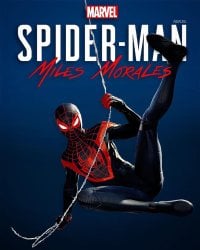 Spider-Man: Miles Morales is a continuation of Spider-Man, released in 2018 and developed by Insomniac Games studio. This time the players don't impersonate Peter Parker, but Miles Morales, who is taking over the legacy as a Spider-Man.
Mechanics
In Spider-Man: Miles Morales the action is shown from the third person perspective (TPP). The authors once again put New York City at our disposal, which we freely roam, swaying on spider webs, running on walls and jumping between terrain obstacles. Once again, clashes with enemies and stealth sections play an important role, in which we eliminate enemies quietly. The driving force behind the game are missions pushing the story forward, accompanied by numerous side tasks and activities.
Technical aspects
Spider-Man: Miles Morales is based on the proprietary Insomniac Games studio technology, which has been refined to take full advantage of the PlayStation 5 console.
PEGI Rating