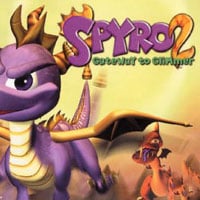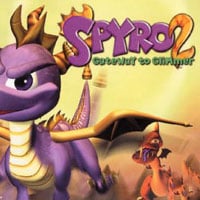 Spyro 2: Ripto's Rage!
PS1
Spyro the Dragon 2: Gateway to Glimmer
Continuation of the Insomniac Games studio hit. The production presents another adventure of the purple dragon Spyro and is a typical 3D platform where players can face agility and logic challenges.
Spyro 2: Ripto's Rage!

Release Date PS1

02November1999
developer: Insomniac Games publisher: Sony Interactive Entertainment

game language: English
Released one year after the release of Spyro the Dragon, the game is the second installment of the adventures of the small purple dragon. Insomniac Games' title is a 3D platform game, in which the players explore open levels, collect various items and face various arcade and logic challenges.
Story
The little dragon Spyro and his companion, the Sparx the dragonfly, are unexpectedly transferred to the fantastic world of Avalar. It turns out that they were brought there by the goddess Faun and her friends, who need help in the fight against the evil magician Ripto. The wicked sorcerer can only be defeated by a dragon. Spyro agrees to face him. During his adventure he has to find talismans that will allow him to deal with his enemies.
Mechanics
Continuation of the 1998 hit develops elements of the original with additional mechanics. The game is a typical 3D platformer game, in which players explore open levels to face a variety of arcade and logic challenges, pick up collectibles and perform tasks for the characters they meet.
The main protagonist has several health points and can deal with opponents by breathing fire or charging at them. Compared to the previous installment, the creators added additional skills that Spyro gains during his adventure, such as swimming or climbing. They enable us to reach previously inaccessible areas and are essential to complete the game in one hundred percent. During the adventure, the players will come to explore the lands associated with the different seasons of the year. Numerous mini-games, such as track races, shooting range and hockey games, add variety to the fun.
Technical aspects
Spyro 2: Ripto's Rage! is maintained in the style of the original - the visuals resembles a colourful cartoon with exaggerated characters. The dubbing cast includes Tom Kenny, playing Spyro, who is known as the voice of Spongebob Squarepants.
User score: 8,7 / 10 based on 79 votes.
Age restrictions Spyro 2: Ripto's Rage!: Good for all ages.