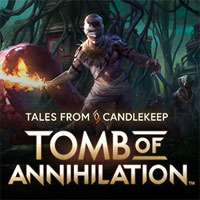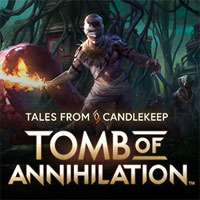 Tales from Candlekeep: Tomb of Anihilation
PC
A turn-based strategy game inspired by the board game Dungeons & Dragons Adventure System: Tomb of Annihilation. The title takes place in the Forgotten Realms universe and enables the players to explore dungeons and fight enemies as a party of 1 to 4 characters.
Strategy | fantasy | turn-based | Board & card | Isometric view | Dungeons & Dragons | RPG elements
Tales from Candlekeep: Tomb of Anihilation

Release Date PC

11October2017
developer: BKOM Studios publisher: BKOM Studios Official website

game language: English
Tales from Candlekeep: Tomb of Anihilation is a turn-based strategy game in which players control a team of 1-4 characters and travel through dungeons filled with treasures and dangerous enemies. The game is based on the series of board games (not to be mistaken with table role-playing games) Dungeons & Dragons Adventure System and on the Forgotten Realms setting known from Baldur's Gate and Icewind Dale series. The title was developed by BKOM Studios.
Plot
Tales from Candlekeep: Tomb of Anihilation takes place on the traitorous Chult peninsula. Four adventure seekers must deal with a dangerous jungle, labyrinths and dungeons in order to find and break the evil curse.
Mechanics
The game is a typical turn-based strategy adaptation of a board game. The players can choose from four varied characters:
Artus Cimber – a former member of the Harpers and the keeper of the Ring of Winter. He can use ice magic, a bow and a dagger.
Asharra – she belongs to the winged race of Aarakocra. She is a powerful and ambitious sorceress who can use varied spells.
Birdsong – a young and clever Tabaxi (a race of catmen). A bard who fights enemies with sword and songs.
Dragonbait – a lizardman (Saurial) from a far world. A greatly trained warrior who focuses on precision and is always calm.
The characters are observed from an isometric perspective. The players travel through random-generated levels, fight enemies, gather experience (that unlocks new character levels and skills) and treasures. The game features a few dozen of side and main quests. A crafting system was implemented as well.
Game modes
Tales from Candlekeep: Tomb of Anihilation features only a single player mode.
Technical aspects
Tales from Candlekeep: Tomb of Anihilation features three-dimensional graphics. The artistic style of characters and locations references the original Forgotten Realms board games and Dungeons & Dragons handbooks.
Last updated on 20 February 2018
Game mode: single player
Age restrictions Tales from Candlekeep: Tomb of Anihilation: Good for all ages.