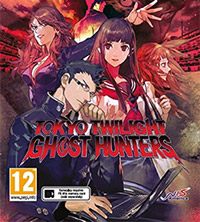 Tokyo Twilight Ghost Hunters for PS3, PSV, PS4 and PC is an original combination of a visual novel and turn-based strategy game. Players take on the role of a member of a ghost hunting team in Tokyo. The game was created by Japanese studio Toybox Games and Arc System Works, known in the West mainly for its 2D BlazBlue and Guilty Gear series. The production was supervised by Shohoho Imai, creator of Tokyo Majin anime series. The title song was composed by Nobuo Uematsu, a legendary composer of music for the Final Fantasy series. The character designs were done by Chinatsu Kurahan, who designed the characters in the popular manga and anime called Uta no Prince-sama.
Plot
The game takes place in Shinjuku, one of the largest and most important districts of the Japanese capital. Players take on the role of a high school student named Kurenai, who is attacked by a ghost shortly after the beginning of the school year. The boy is saved by a friend and a mysterious woman who owns a small publishing house called Gate Keepers. Apparently, it publishes books and magazines on supernatural phenomena and occultism, but it also secretly conducts other activities. The employees of the publishing house perform exorcisms and hunt all kinds of ghosts. After getting persuaded by the boss, the main character joins her company and begins his adventure as a ghost hunter.
The story is presented in the form known from visual novel games, and the portraits of the characters are animated, which gives them an additional attraction. It is worth mentioning that the title offers several different endings.
Mechanics
The gameplay in Tokyo Twilight Ghost Hunters is divided into two main components. The first part is a visual novel adventure where we get to know the story and establish relationships with the protagonists. We also sometimes have to make the right decision. The second element are battles against ghosts, which take place on a 2D board divided into fields. Players determine the positions of characters and specialistic ghost detection equipment. Both our exorcists and ghosts can only move during their turn. The player can use special skills and items carried by the characters.
After completing the task, we are evaluated and rewarded by the client with an appropriate amount of money. New funds can be spent on new equipment or employees. Each employee has his or her own statistics and gains experience during the missions.
Technical aspects
The graphics in Tokyo Twilight Ghost Hunters are functional. A lot of attention was paid to the user interface, various statistics and tables, on which we spend most of our time. The soundtrack consists of various types of instrumental rock songs.
Similar games:
PEGI Rating
System requirements
PC / Windows
Recommended: Intel Core i3 3.0 GHz, 3 GB RAM, graphic card 2 GB Intel HD 4000 or better, Windows 7/8.1/10
Minimum: Intel Core i3 2.5 GHz, 3 GB RAM, graphic card 1 GB Intel HD 4000 or better, Windows 7/8.1/10