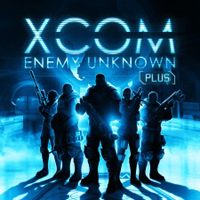 game language: English
game release date for PSV:
22March2016
XCOM: Enemy Unknown Plus for PSV is a strategy game developed by experienced Firaxis studio. This is a revival of the cult series started by UFO: Enemy Unknown published in 1994. The title is a PC and consoles port, which is composed of both the base-version of XCOM: Enemy Unknown from 2012 and XCOM: Enemy Within – an extension released a year later. The only thing missing is the multiplayer mode.
Plot
The plot does not serve as a direct continuation of the original trilogy from the 90s – it retells the story of the first conflict between humans and an alien civilisation which decided to colonise our planet. In order to deal with the space invaders, a special organisation comes to life – Extraterrestrial Combat Unit (XCOM). It does not only repulse the invasion, but also works out secrets of their technology. The player assumes the role of the organisation's commander.
Mechanics
Gameplay in XCOM: Enemy Unknown Plus published on PSV has two layers – the strategy aspect takes place in real time, while direct conflicts with aliens on Earth are turn-based. The strategy element enables the player to conduct scientific research, discover secrets of alien technology, and produce weapons and equipment. XCOM's activity is not cheap, therefore the player needs to carefully manage the finances. The Council is composed of 16 nations that sponsor XCOM and it is important to keep them all satisfied with the results. The choice of a continent for the player's main headquarters entails specific bonuses, like lower cost of satellites and fighters or instant autopsies. All of this takes place on a big map covering the whole Earth. This is where you set up the operating base which then you fill with staff and add new facilities and laboratories.
From time to time there is a message about a new discovery of alien activity which urges you to set off to the destination in order to eliminate the threat. This is when the turn-based system kicks in. You are in control of a small group of perfectly-trained soldiers with the objective of, most usually, killing every alien on the map. During combat, Fog of War and Line of Sight play the key roles. Soldiers killed in action cannot be revived once a mission is over. Units on battlefield receive experience points that can be spent on their abilities' development.
Most of missions (excluding the ones shaping the plot) are generated procedurally, both in terms of the starting point and placing enemy units. The game's engine features extensive environment destruction. Combat is even more interesting due to the morale system. Inexperienced units easily throw themselves into panic and a death of a teammate negatively influences their morale.
XCOM: Enemy Unknown Plus includes full content of the extension called XCOM: Enemy Within. The production brings a breath of fresh air into gameplay, like new weapons, upgrades, maps, and skills. One of the most important novelties is a new type of resource – meld. It is a kind of substance made of cybernetic nanomachines that can modify human genotype. This translates to genetic "enhancement" of soldiers' bodies and combining them with mechanical elements.
Similar games:
Age Rating
age requirements: 18+