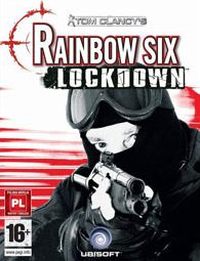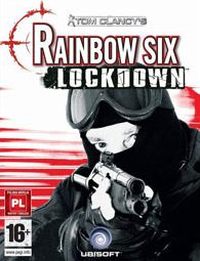 Tom Clancy's Rainbow Six: Lockdown
The fourth full-fledged installment of the tactical action game series, promoted with the name of the famous writer Tom Clancy. The game is a result of cooperation between the original series creators from Red Storm Entertainment and Ubisoft Montreal studio.
Action | FPP | TPP | terrorism | modern conflicts | tactical | shooters
Another installment in a very popular tactical game series endorsed with the name of a well-known writer Tom Clancy. This edition is a result of cooperation between two game developer studios: Red Storm Entertainment (creators of the original Rainbow Six) and Ubisoft Montreal. Just as in the previous installments, you set off to fight organized crime as a member of an elite anti-terrorist squad Rainbow Six. This time, however, the nature of gameplay is different, as you get to choose which one of two characters you want to play: Dingo Chavez, the leader of the Rainbow Six, or a marksman Dieter Weber. What is more, the conditions in which you fight are unusual too, as you are forced to defend yourself from a terrorist organization which aims to annihilate Rainbow Six unit. On top of that, the syndicate came into possession of a dangerous nano-virus, posing a threat to the entire world.
The campaign consists of 16 missions set in various corners of our globe, including Algeria and South Africa. For the first time in the series there are missions in which you must cover your teammates as a sniper. In these missions you do not command the entire squad from the ground, but take a safe position (e.g. in a tower) and clear the area ahead for your mates. Throughout the entire game you get to fight side by side with 10 agents of different nationalities, sexes, and specializations (recon, explosives specialists, technicians, etc). In a single mission your main character is accompanied by up to 3 people. Their behavior is guided by an improved AI, as compared with Rainbow Six 3. The same is true for opponents, who are able to flank your squad, cover one another, use suppressing fire, and skillfully clear rooms off any potential dangers.
With the view of the veterans of the franchise who prefer realism, as well as the newcomers, two difficulty levels were prepared. Moreover, Rainbow Six: Lockdown offers an array of optional aids, such as marking opponents (in order to spot them more easily), as well as number of hints and extra details given during mission briefings (e.g. the weapons used by terrorists).
The developers also enhanced the graphics engine used in the previous part and used realistic ragdoll engine Havoc 2 to make the in-game urban combat more realistic. An interesting idea are the goggles used by the anti-terrorists (FPP view), visible on the screen. When it is raining, drops of water settle on them. They get damaged during combat (cracks and scratches). Condition of the goggles influences the visibility.
The arsenal of firearms used by your squad is expanded (there are now 42 weapons to choose from) in comparison to the previous part. The new ones are e.g. a powerful sniper rifle and MTAR-21 micro assault rifle. The list of other useful gadgets is longer too. Among the new toys there is the motion sensor that lets you detect enemies invisible to the naked eye.
Rainbow Six: Lockdown also features complex multiplayer. Among the available play modes there are: Co-op, Deathmatch, and Team-Base.
Game mode: single / multiplayer Multiplayer mode: Internet
Media type: 1 DVD
User score: 7,6 / 10 based on 600 votes.
Pre-release expectations: 9.3 / 10 based on 24 votes.
PEGI rating Tom Clancy's Rainbow Six: Lockdown
Tom Clancy's Rainbow Six: Lockdown System requirements
Recommended:
Pentium 4 1.5 GHz
512 MB RAM
graphic card 64 MB (GeForce3 or better)
7 GB HDD
Windows 2000/XP
Uses:
memory card
Network Adaptor