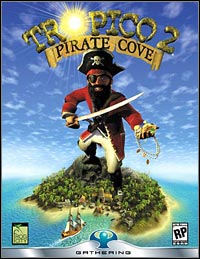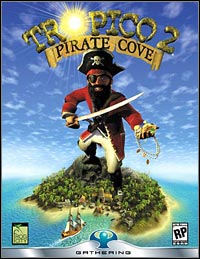 Tropico 2: Pirate Cove
PC
Developed by Frog City Software team, the sequel to the popular Tropico economic strategy from 2001. Unlike its predecessor set in the 20th century, the game takes us to the 17th century and allows us to become the real ruler of the southern seas.
Strategy | Economic | RTS | Isometric view | Pirates | 2D | city builder
Tropico 2: Pirate Cove

Release Date PC

08April2003
developer: Frog City Software publisher: Gathering of Developers Official website

game language: English
As an all-powerful Pirate King, players must manage a seventeenth century band of buccaneers in Tropico 2: Pirate Cove. To attract the most frightening of history's sea-faring bad boys, Pirate Kings must keep their charges brave and well-supplied between voyages. The island's yo-ho-ho's must stay at a feverish pitch in order to keep the King and his buccaneers satisfied with drinking, wenching, gambling, feasting, and the best in pirate accommodations.
Success in Tropico 2: Pirate Cove depends on careful management of the pirate population. As dead men earn no plunder, the King must keep his pirates well equipped for potentially lethal missions. Sea dogs require muskets, cutlasses, cannons, and the skills to use them when they venture forth to plunder the Spanish Main. Pirates equipped with a parrot on their shoulders and a scary black hat are more likely to strike fear into their victims' hearts.
Three Big Changes to Tropico Model
Tropico 2 features several major innovations to the original Tropico game. The traditional economic model is reversed: the player maintains their wealth not by production of materials, but by plundering merchants on the high seas and bringing the victims back to the island as captive workers. In addition, the pirate characters show a great deal of individual personality, so that the player becomes truly vested in the characters' well-being. The island is also zoned so that richer pirates may sequester themselves in their own booty-filled mansions, which automatically upgrade as their standards of living improve.
Game mode: single player
Media type: 2 CD
User score: 8,4 / 10 based on 523 votes.
PEGI rating Tropico 2: Pirate Cove
Tropico 2: Pirate Cove System requirements
Recommended:
Pentium III 650MHz
128MB RAM
16 MB graphic card