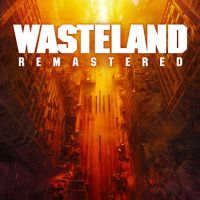 Wasteland: 30th Anniversary Edition is a remastered version of Wasteland, the cult 1988 RPG designed by Brian Fargo and created by Interplay Productions. The production was developed by the Krome Studios team, whose portfolio includes, among others, refreshed versions of the first three parts of The Bard's Tale series, i.e. The Bard's Tale Trilogy.
Story
The action of Wasteland: 30th Anniversary Edition takes place in 2087, ninety years after the Third World War. A handful of survivors form small communities, struggling to survive in a new, inhospitable world dominated by mutant beings and criminal gangs. As we play, we play as members of the paramilitary organization Desert Rangers, who initially only try to survive, trying to bring order to the wilderness. But when the heroes find themselves traced back to a much greater danger, they have to face it before it is too late.
Mechanics
Playing with PC Wasteland: The 30th Anniversary Edition starts with the creation of a team of up to four heroes, to which three more daredevils can join over time. The action is observed here from a bird's eye view, and the world at our disposal, which we can freely travel through, includes not only the mentioned wilderness, but also various settlements and, among other things, mysterious caves. During the game, we talk to neutral characters and perform tasks for them; many problems can be solved in different ways depending on the equipment of our team and the individual skills of its members. Clashes with enemies in turn-based mode also play an important role in this production; their success is ensured above all by the skillful use of the equipment on the guard rails, as well as by choosing the right tactics.
Technical issues
While working on Wasteland: 30th Anniversary Edition, the authors refreshed the graphic design, which, despite the changes, retains the spirit of the original. The whole is also adapted to panoramic displays.
Other
Wasteland: 30th Anniversary Edition can be purchased separately or as part of the Wasteland 30th Anniversary Edition Bundle compilation. In addition to this production, the set also includes the original version of Wasteland and the full version of Wasteland 2: Director's Cut, as well as digital add-ons, i.e. soundtracks from Wasteland 2 and Wasteland 3, art book from the second part of the series and newcomers embedded in the universe created for its needs: All Bad Things, The Earth Transformed Ghost Book One and Death Machines Ghost Book Two.
Please let us know if you have any comments or suggestions regarding this description.
Age Rating
age requirements: 16+
System requirements
PC / Windows
Recommended: Intel Core i5-3570K 3.4 GHz / AMD Phenom X4 9600 2.3 GHz, 8 GB RAM, graphic card 2 GB GeForce GTX 750 Ti / Radeon HD 7770 or better, 4 GB HDD, Windows 8.1/10 64-bit
Minimum: Intel Core i5-760 2.8 GHz / AMD Athlon II X2 245 2.9 GHz, 4 GB RAM, graphic card 1 GB GeForce GT 520 / Radeon HD 5450 or better, 4 GB HDD, Windows 8.1/10 64-bit