News
video games
16 November 2023, 13:25
author: Zuzanna Domeradzka
Update 1.0 Takes Arma Reforger Gameplay to New Level
The full version of Arma Reforger has debuted. Update 1.0 introduced a slew of new features to this realistic online shooter, including helicopters.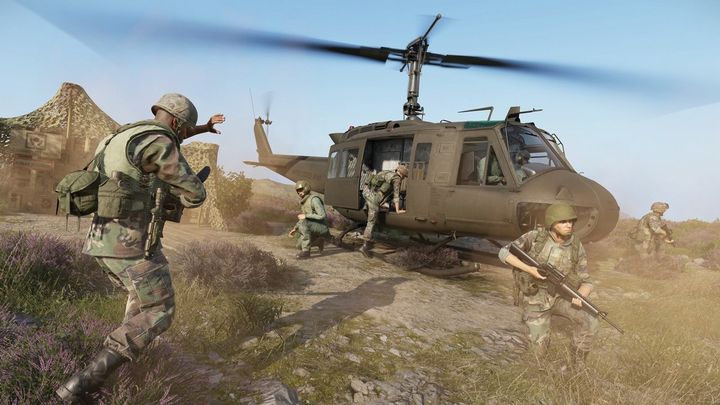 Source: Bohemia Interactive
i
Looking forward to the fourth full-fledged installment of Arma, it is worth taking a look at another realistic shooter from the series from Bohemia Interactive, called Arma Reforger. Right now is a good time to play the game, as it has reached full release (on PC and Xbox Series X/S). Update 1.0, released today, introduces many changes and new features.
According to the developers, the latest update "takes the gameplay to a whole new level." It's hard to disagree with that, seeing the very long list with changes. Below we have listed the most important novelties that have hit Arma Reforger.
Helicopters have been added to the game. Players can now use UH-1H and Mi-8MT helicopters as a means of transportation and, for example, deliver supplies to designated locations using them.
The supply system has been completely revised. Now the supplies appear in the game as physical models and are distributed both on Everon Island and in Arland. New structures and vehicles have been added to the revamped system (more on them below).
A new way of traveling has been introduced. If a player gets lost or finds himself far from his team, he can "teleport" to the location in question after pointing at specific coordinates. This mechanic has some limitations, so that it can't be used too often and doesn't make the gameplay too easy.
It is possible to repair broken vehicles. Those that are critically damaged are repaired with a wrench, and this costs a certain amount of resources. Only special maintenance points or repair trucks with supplies are used for full repairs.
It is now possible to refuel vehicles at bases with fuel, and on the battlefield using containers and trucks containing it.
Medical kits, used to heal wounded allies, and ammunition and explosives resupply kits have been added to the game.
The developers have also added to Arma Reforger a new bulletproof vest and Soviet civilian vehicles, which can be used to move around.
There are many more changes. It is worth mentioning, for example, the overhaul of the Conflict mode, which, among other things, now provides for a penalty for suicide. In addition, the player who is underwater for too long can drown and a bug with a character getting thrown from a vehicle after death has been fixed. All the fixes and news can be found here.
Below you will see the new trailer for Arma Reforger, which the developers released on the occasion of update 1.0's debut. According to the project manager, Jan Dušek, "the release of this title is the beginning of a new era."
It is worth noting that despite the release of the full version of Army Reforger the developers are not abandoning the game. It will continue to be developed, and in the near future we can expect new vehicles, gadgets or improvements in base building. Fans should keep an eye on the game's continuously updated roadmap.