News
video games
10 December 2021, 21:43
Cyberpunk 2077 Year One in Numbers; CDPR Thanks Players for Support
Cyberpunk 2077 celebrates its first birthday today. CD Projekt RED thanks the players for their support, the community shares memories, and we take a look back at what the past year has been like.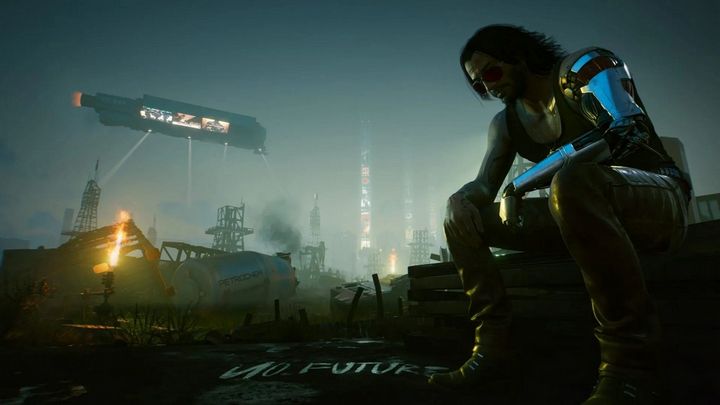 On December 10, 2020, the so-called day one patch for Cyberpunk 2077was released... that's how it began. The flak taken by CD Projekt's game due to its technical condition at the time - especially on 8th-gen consoles - was well-deserved. Despite this, many people have had a great time with the game. What is it like today, exactly one year after the release? Better, but not perfect. The devs are clearly aware of this, because they just thanked the players for their support through a post on Twitter.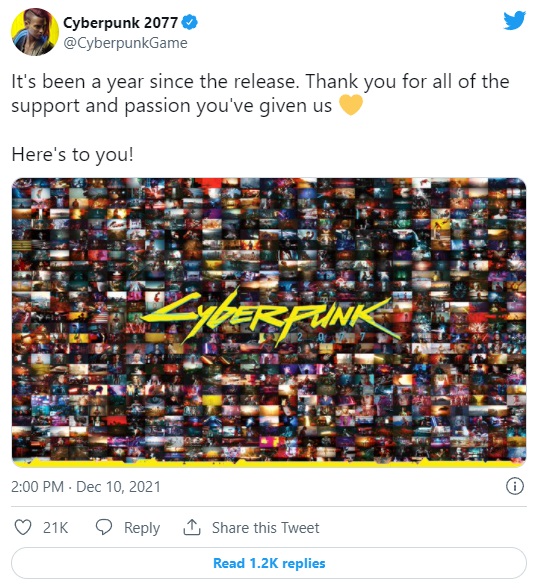 Source: twitter.com/CyberpunkGame/status/1469290859388624899.
The community's response turned out to be varied. There is no shortage of critical voices, but a considerable number of fans share positive memories and reciprocate the thanks. Under the anniversary entry you can find such an image:
A lot of summaries of the last year appeared on the web. Unfortunately, four major patches - I consider the last one to be the one bearing the number 1.31 - and several smaller patches (I counted a total of twelve) did not fix everything.
It is also worth mentioning the opinions of Metacritic users. At the moment, the PC version of the game is rated at 7.1 (more than 30,600 votes), and the console editions respectively at 3.7 (PS4 - about 10,300 votes) and 5.0 (XOne - more than 4,100 votes). Next-gen versions and DLCs are, unfortunately, still nowhere to be seen. Things also look interesting on Steam, where the percentage of positive reviews, written by over 417 thousand players, is currently 76% - it used to be lower by as much as twenty percentage points - and the latest reviews are "very positive" (specifically, 82% of nearly 30,000 reviews).
CD Projekt RED has repeatedly assured that it will not abandon its youngest child, and let's hope that it will keep its word. This is certainly not how the developers imagined this anniversary - a little over a year after the release of The Witcher III there were already two big and 16 small DLCs available on the market - but maybe it will motivate them to celebrate Cyberpunk 2077's second birthday in a slightly different atmosphere.