News
video games
13 September 2023, 13:57
Dynamic Gameplay From Phantom Liberty Shows New Weapon Capabilities
CD Projekt RED has prepared a demonstration of the capabilities of the combat cyberware available in the Phantom Liberty DLC. In addition, players are speculating on the release date of update 2.0.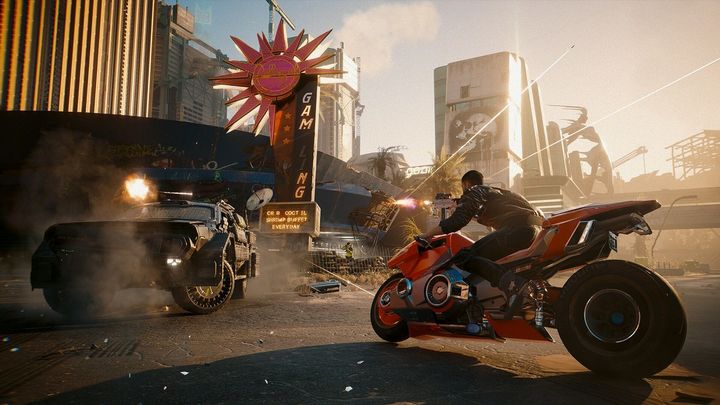 Premiere of Cyberpunk 2077: Phantom Liberty will take place on September 26, which is less than two weeks from now. Not surprisingly, the Polish developer has launched a media offensive. This time, the developers showed off an action-packed gameplay trailer, depicting combat cyberware, such as gorilla arms, mantis blades and monowire.
Failed lobotomy by fist and other caresses
A short video published on X / Twitter profile of Cyberpunk 2077 demonstrated the capabilities of combat cyberware in action. First you can see a knockout using gorilla arms, followed by a brutal combination with superheated mantis blades, a quick neutralization of the threat with a monowire, and finally an impressive leap from a speeding motorcycle and defeating enemies with a missile launcher.
The video is accompanied by the caption: "#PhantomLiberty brings new unlockable abilities for Gorilla Arms, Mantis Blades, Monowire & Projectile Launch System. Check them out in action!". So it looks like these abilities will only be available to DLC owners and not as part of update 2.0. This may also be evidenced by the fact that the gameplay in the video takes place in Dogtown, a neighborhood that will be introduced in the expansion.
Cyberpunk 2077 2.0 coming tomorrow? It's quite possible
It is worth reminding, that tomorrow at 5 p.m. CET there will be another episode of Night City Wire, where the developers will introduce the character of Solomon Reed, played by Idris Elba, as well as provide information on gameplay or radio stations. CD Projekt RED also announced that it will "share a surprise or two," which could mean that either during the stream, the release date of update 2.0 will be revealed, or the update itself will become available. Some of the players commenting on the above gameplay recording are of a similar opinion.
Night City Wire will be available live on YouTube and Twitch.