News
special offers
17 May 2022, 22:11
Game Pass - Updated Game List; May 2022
In this news you will find all titles that can be played on Xbox and PC Game Pass services. The list of games will be updated on a regular basis.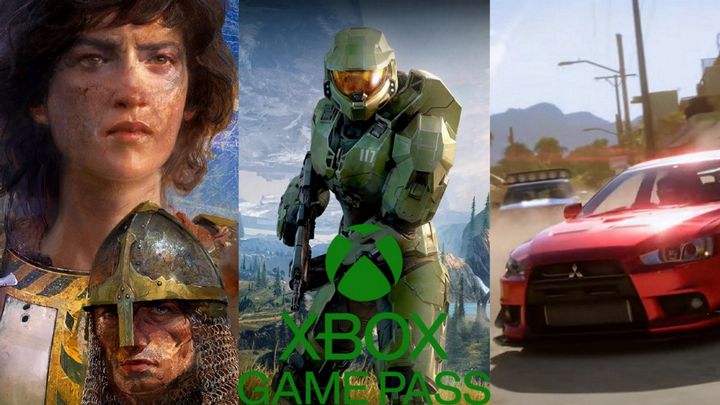 Xbox Game Pass and PC Game Pass are services that enable us, for a monthly fee, to get access to a huge collection of games, which currently includes almost 500 titles.
You can find in it items published by Microsoft itself, such as the Halo and Gears of War series. The pool also includes games published by other companies, among which we can distinguish Bethesda (bought by Microsoft last year, but remaining independent), Focus Entertainment or Paradox Interactive. In addition, the subscribers have access to games included in the EA Play subscription.
In this message you can find a full list of titles that you can try as part of the subscription. Next to each of them there is information on the platforms on which you can try them. The list will be updated on a regular basis.
What's new in Game Pass?
Xbox and PC Game Pass offer is constantly changing. Twice a month publishes Microsoft a list of productions that will join or leave the service in the coming days. The latest announcement reveals rotation of titles in the second half of May.
Xbox and PC Game Pass - games heading to the service
Farming Simulator 22 (PC, Xbox One, Xbox Series X|S, cloud) - available from May 19
Vampire Survivors (PC) - available May 19
Floppy Knights (PC, Xbox One, Xbox Series X|S, cloud) - available from May 24
Hardspace: Shipbreaker (PC) - available from May 24
Sniper Elite 5 (PC, Xbox One, Xbox Series X|S) - available from May 26
Cricket 22 (PC) - available from May 27
Pac-Man Museum (PC, Xbox One, Xbox Series X|S, cloud) - available from May 27
Xbox and PC Game Pass - games leaving the service
NHL 20 (Xbox One, Xbox Series X|S) - unavailable as of May 31
Farming Simulator 19 (PC, Xbox One, Xbox Series X|S and cloud) - unavailable as of May 31
Knockout City (PC, Xbox One, Xbox Series X|S) - unavailable as of January 31
Resident Evil VII (PC, Xbox One, Xbox Series X|S and the cloud) - unavailable as of May 31
SpellForce 3: Soul Harvest (PC) - unavailable as of May 31
SUPERHOT: Mind Control Delete (PC, Xbox One, Xbox Series X|S and cloud) - unavailable as of May 31
Yes, Your Grace (PC, Xbox One, Xbox Series X|S and cloud) - unavailable as of May 31
Game Pass - list of available games
7 Days to Die (PC, Xbox One, Xbox Series X|S, cloud)
A Memoir Blue (PC, Xbox One, Xbox Series X|S, cloud)
A Plague Tale: Innocence (PC, Xbox One, Xbox Series X|S, cloud)
A Way Out (PC, Xbox One, Xbox Series X|S)
Age of Empires: Definitive Edition (PC)
Age of Empires II: Definitive Edition (PC)
Age of Empires III: Definitive Edition (PC)
Age of Empires IV (PC)
Alan Wake's American Nightmare (PC, Xbox One, Xbox Series X|S)
AI: The Somnium Files (PC, Xbox One, Xbox Series X|S, cloud)
Alice: Madness Returns (PC, Xbox One, Xbox Series X|S)
Alien Isolation (PC)
Aliens: Fireteam Elite (PC, Xbox One, Xbox Series X|S, cloud)
Among Us (PC, Xbox One, Xbox Series X|S, cloud)
Anthem (PC, Xbox One, Xbox Series X|S)
Anvil: Vault Breaker (PC, Xbox One, Xbox Series X|S, cloud)
Aragami 2 (PC, Xbox One, Xbox Series X|S, cloud)
Archvale (PC, Xbox One, Xbox Series X|S, cloud)
Ark: Ultimate Survivor Edition (PC, Xbox One, Xbox Series X|S, cloud)
Art of Rally (PC, Xbox One, Xbox Series X|S, cloud)
Astria Ascending (PC, Xbox One, Xbox Series X|S, cloud)
Astroneer (PC, Xbox One, Xbox Series X|S, cloud)
Atomicrops (PC, Xbox One, Xbox Series X|S, cloud)
Back 4 Blood (PC, Xbox One, Xbox Series X|S, cloud)
Backbone (PC, Xbox One, Xbox Series X|S, cloud)
Banjo Kazooie: Nuts and Bolts (Xbox One, Xbox Series X|S, cloud)
Banjo-Kazooie (Xbox One, Xbox Series X|S, cloud)
Banjo-Tooie (Xbox One, Xbox Series X|S, cloud)
Bassmaster Fishing 2022 (PC, Xbox One, Xbox Series X|S, cloud)
Batman Arkham Knight (Xbox One, Xbox Series X|S, cloud)
Battlefield 1 (PC, Xbox One, Xbox Series X|S, cloud)
Battlefield 1943 (Xbox One, Xbox Series X|S)
Battlefield 3 (PC, Xbox One, Xbox Series X|S)
Battlefield 4 (PC, Xbox One, Xbox Series X|S, cloud)
Battlefield Bad Company (Xbox One, Xbox Series X|S)
Battlefield Bad Company 2 (Xbox One, Xbox Series X|S)
Battlefield Hardline (PC, Xbox One, Xbox Series X|S)
Battlefield V (PC, Xbox One, Xbox Series X|S, cloud)
Battletech (PC)
Battletoads (PC, Xbox One, Xbox Series X|S, cloud)
Before We Leave (PC, Xbox One, Xbox Series X|S, cloud)
Bejeweled 3 (Xbox One, Xbox Series X|S)
Ben 10: Power Trip (PC, Xbox One, Xbox Series X|S, cloud)
Besiege (PC, Xbox One, Xbox Series X|S, cloud)
Black Desert (Xbox One, Xbox Series X|S, cloud)
Black (Xbox One, Xbox Series X|S)
Bleeding Edge (PC, Xbox One, Xbox Series X|S, cloud)
Blinx: The Time Sweeper (Xbox One, Xbox Series X|S, cloud)
Bloodroots (PC, Xbox One, Xbox Series X|S, cloud)
Boyfriend Dungeon (PC, Xbox One, Xbox Series X|S, cloud)
Breathedge (PC, Xbox One, Xbox Series X|S, cloud)
Bridge Constructor Portal (PC, Xbox One, Xbox Series X|S, cloud)
Broken Age (PC, Xbox One, Xbox Series X|S, cloud)
Brutal Legend (Xbox One, Xbox Series X|S)
Bug Fables: The Everlasting Sapling (PC, Xbox One, Xbox Series X|S, cloud)
Bugsnax (PC, Xbox One, Xbox Series X|S)
Burnout Paradise (PC, Xbox One, Xbox Series X|S)
Carrion (PC, Xbox One, Xbox Series X|S, cloud)
Children of Morta (PC, Xbox One, Xbox Series X|S, cloud)
Cities: Skylines (PC, Xbox One, Xbox Series X|S, cloud)
ClusterTruck (PC, Xbox One, Xbox Series X|S, cloud)
Command & Conquer Remastered Collection (PC)
Conan Exiles (PC, Xbox One, Xbox Series X|S, cloud)
Contrast (Xbox One, Xbox Series X|S, cloud)
Costume Quest 2 (Xbox One, Xbox Series X|S)
Crackdown 3 (PC, Xbox One, Xbox Series X|S, cloud)
Craftopia (PC, Xbox One, Xbox Series X|S, cloud)
Crimson Skies: High Road to Revenge (Xbox One, Xbox Series X|S, cloud)
Cris Tales (PC, Xbox One, Xbox Series X|S, cloud)
CrossfireX (Xbox One, Xbox Series X|S, cloud)
Crown Trick (PC, Xbox One, Xbox Series X|S, cloud)
Crusader Kings 3 (PC)
Crysis (PC, Xbox One, Xbox Series X|S)
Crysis 2 (PC, Xbox One, Xbox Series X|S)
Crysis 3 (PC, Xbox One, Xbox Series X|S)
Curse of the Dead Gods (PC, Xbox One, Xbox Series X|S, cloud)
Dandy Ace (PC, Xbox One, Xbox Series X|S, cloud)
Danganronpa: Trigger Happy Havoc Anniversary Edition (PC, Xbox One, Xbox Series X|S, cloud)
Danganronpa 2: Goodbye Despair Anniversary Edition (PC, Xbox One, Xbox Series X|S, cloud) -
Dante's Inferno (Xbox One, Xbox Series X|S)
Darkest Dungeon (PC, Xbox One, Xbox Series X|S, cloud)
Day of the Tentacle Remastered (PC, Xbox One, Xbox Series X|S)
DayZ (Xbox One, Xbox Series X|S, cloud)
Dead by Daylight (PC, Xbox One, Xbox Series X|S, cloud)
Dead Cells (PC, Xbox One, Xbox Series X|S, cloud)
Dead Space (PC, Xbox One, Xbox Series X|S, cloud)
Dead Space 2 (PC, Xbox One, Xbox Series X|S)
Dead Space 3 (PC, Xbox One, Xbox Series X|S)
Dead Space Ignition (Xbox One, Xbox Series X|S)
Death's Door (PC, Xbox One, Xbox Series X|S, cloud)
DEEEER Simulator: Your Average Everyday Deer Game (PC, Xbox One, Xbox Series X|S, cloud)
Deep Rock Galactic (PC, Xbox One, Xbox Series X|S, cloud)
Descenders (PC, Xbox One, Xbox Series X|S, cloud)
Destiny 2 (PC)
Destroy All Humans! (PC, Xbox One, Xbox Series X|S, cloud)
Dicey Dungeons (PC, Xbox One, Xbox Series X|S, cloud)
Dirt 4 (Xbox One, Xbox Series X|S)
Dirt 5 (PC, Xbox One, Xbox Series X|S, cloud)
Dirt Rally (Xbox One, Xbox Series X|S)
Dirt Rally 2.0 (Xbox One, Xbox Series X|S)
Citizen Sleeper (PC, Xbox One, Xbox Series X|S, cloud)
Dishonored Definitive Edition (PC, Xbox One, Xbox Series X|S, cloud)
Dishonored: Death of the Outsider (PC, Xbox One, Xbox Series X|S, cloud)
Dishonored 2 (PC, Xbox One, Xbox Series X|S, cloud)
Disneyland Adventures (PC, Xbox One, Xbox Series X|S, cloud)
Dodgeball Academia (PC, Xbox One, Xbox Series X|S, cloud)
Donut County (PC, Xbox One, Xbox Series X|S, cloud)
Doom (1993) (PC, Xbox One, Xbox Series X|S, cloud)
Doom (Xbox One, Xbox Series X|S)
Doom 2 (PC, Xbox One, Xbox Series X|S, cloud)
Doom 3 (PC, Xbox One, Xbox Series X|S, cloud)
Doom 64 (PC, Xbox One, Xbox Series X|S, cloud)
Doom Eternal (PC, Xbox One, Xbox Series X|S, cloud)
Double Dragon Neon (Xbox One, Xbox Series X|S, cloud)
Dragon Age: Origins (PC, Xbox One, Xbox Series X|S, cloud)
Dragon Age 2 (PC, Xbox One, Xbox Series X|S, cloud)
Dragon Age: Inquisition (PC, Xbox One, Xbox Series X|S, cloud)
Dragon Ball FighterZ (PC, Xbox One, Xbox Series X|S, cloud)
Dragon Quest Builders 2 (PC, Xbox One, Xbox Series X|S, cloud)
Dragon Quest XI S: Echoes of an Elusive Age (PC, Xbox One, Xbox Series X|S, cloud)
Dreamscaper (PC, Xbox One, Xbox Series X|S, cloud)
Dungeons and Dragons Dark Alliance (PC, Xbox One, Xbox Series X|S, cloud)
Dungeon Keeper (PC, cloud)
Dungeon Keeper 2 (PC, cloud)
Echo Generation (PC, Xbox One, Xbox Series X|S, cloud)
Edge of Eternity (PC, Xbox One, Xbox Series X|S, cloud)
Elite Dangerous (Xbox One, Xbox Series X|S, cloud)
Eiyuden Chronicle: Rising (PC, Xbox One, Xbox Series X|S, cloud)
Ember (PC, Xbox One, Xbox Series X|S, cloud)
Empire of Sin (PC, Xbox One, Xbox Series X|S, cloud)
Europa Universalis IV (PC)
Everspace 2 (PC)
Evil Genius 2 (PC, Xbox One, Xbox Series X|S, cloud)
Exo One (PC, Xbox One, Xbox Series X|S, cloud)
F1 2020 (Xbox One, Xbox Series X|S)
F1 2021 (Xbox One, Xbox Series X|S, cloud)
Fable Anniversary (Xbox One, Xbox Series X|S, cloud)
Fable 2 (Xbox One, Xbox Series X|S, cloud)
Fable 3 (Xbox One, Xbox Series X|S, cloud)
Fae Tactics (PC, Xbox One, Xbox Series X|S, cloud)
Fallout (PC)
Fallout 2 (PC)
Fallout 3 (PC, Xbox One, Xbox Series X|S, cloud)
Fallout 4 (PC, Xbox One, Xbox Series X|S, cloud)
Fallout 76 (PC, Xbox One, Xbox Series X|S, cloud)
Fallout: New Vegas (PC, Xbox One, Xbox Series X|S, cloud)
Fallout Tactics (PC)
Far: Changing Tides (PC, Xbox One, Xbox Series X|S, cloud)
Farming Simulator 19 (PC, Xbox One, Xbox Series X|S, cloud) - drops from service May 31
Fe (PC, Xbox One, Xbox Series X|S)
FIFA 20 (PC, Xbox One, Xbox Series X|S, cloud)
FIFA 21 (PC, Xbox One, Xbox Series X|S)
FIFA 22 (Xbox One, Xbox Series X|S)
Fight Night Champion (Xbox One, Xbox Series X|S)
Final Fantasy XIII (PC, Xbox One, Xbox Series X|S)
Final Fantasy XIII-2 (PC, Xbox One, Xbox Series X|S)
Firewatch (PC, Xbox One, Xbox Series X|S, cloud)
Flynn: Son of Crimson (PC, Xbox One, Xbox Series X|S, cloud)
Football Manager 2022 (PC, Xbox One, Xbox Series X|S, cloud)
For Honor (Xbox One, Xbox Series X|S, cloud)
Forager (PC, Xbox One, Xbox Series X|S, cloud)
Forza Horizon 4 (PC, Xbox One, Xbox Series X|S, cloud)
Forza Horizon 5 (PC, Xbox One, Xbox Series X|S, cloud)
Frostpunk (PC, Xbox One, Xbox Series X|S, cloud)
Full Throttle Remastered (PC, Xbox One, Xbox Series X|S)
Fusion Frenzy (Xbox One, Xbox Series X|S, cloud)
Gang Beasts (PC, Xbox One, Xbox Series X|S, cloud)
Gears 5 (PC, Xbox One, Xbox Series X|S, cloud)
Gears of War (Xbox One, Xbox Series X|S)
Gears of War 2 (Xbox One, Xbox Series X|S, cloud)
Gears of War 3 (Xbox One, Xbox Series X|S, cloud)
Gears of War 4 (PC, Xbox One, Xbox Series X|S, cloud)
Gears of War: Ultimate Edition (PC, Xbox One, Xbox Series X|S, cloud)
Gears of War: Judgment (Xbox One, Xbox Series X|S, cloud)
Gears Tactics (PC, Xbox One, Xbox Series X|S, cloud)
Generation Zero (PC, Xbox One, Xbox Series X|S, cloud)
Genesis Noir (PC, Xbox One, Xbox Series X|S, cloud)
Goat Simulator (PC, Xbox One, Xbox Series X|S, cloud)
Going Under (PC, Xbox One, Xbox Series X|S, cloud)
Golf with Your Friends (PC, Xbox One, Xbox Series X|S, cloud)
Gorogoa (PC, Xbox One, Xbox Series X|S, cloud)
GreedFall (PC, Xbox One, Xbox Series X|S, cloud)
Grid (Xbox One, Xbox Series X|S)
Grim Fandango Remastered (PC, Xbox One, Xbox Series X|S)
Grounded (PC, Xbox One, Xbox Series X|S, cloud)
Hades (PC, Xbox One, Xbox Series X|S, cloud)
Halo 5: Guardians (Xbox One, Xbox Series X|S)
Halo: The Master Chief Collection (PC, Xbox One, Xbox Series X|S, cloud)
Halo: Infinite (PC, Xbox One, Xbox Series X|S, cloud)
Halo Reach (PC)
Halo: Spartan Assault (PC, Xbox One, Xbox Series X|S, cloud)
Halo: Spartan Strike (PC)
Halo Wars: Definite Edition (PC, Xbox One, Xbox Series X|S, cloud)
Halo Wars 2 (PC, Xbox One, Xbox Series X|S, cloud)
Heavy Weapon (Xbox One, Xbox Series X|S)
Hearts of Iron IV: Cadet Edition (PC)
Hellblade: Senua's Sacrifice (PC, Xbox One, Xbox Series X|S, cloud)
Her Story (PC)
Hitman Trilogy (PC, Xbox One, Xbox Series X|S, cloud)
Hollow Knight (PC, Xbox One, Xbox Series X|S, cloud)
Human Fall Flat (PC, Xbox One, Xbox Series X|S, cloud)
Humankind (PC)
I Am Fish (PC, Xbox One, Xbox Series X|S, cloud)
Immortal Realms: Vampire Wars (PC, Xbox One, Xbox Series X|S, cloud)
Infernax (PC, Xbox One, Xbox Series X|S, cloud)
Injustice 2 (PC, Xbox One, Xbox Series X|S, cloud)
Into the Pit (PC, Xbox One, Xbox Series X|S, cloud)
Iron Harvest (PC)
It Takes Two (PC, Xbox One, Xbox Series X|S, cloud)
Jade Empire: Special Edition (PC)
Joy Ride Turbo (Xbox One, Xbox Series X|S, cloud)
Jurassic World Evolution (PC, Xbox One, Xbox Series X|S, cloud)
Jurassic World Evolution 2 (PC, Xbox One, Xbox Series X|S, cloud)
Just Cause 4: Reloaded (PC, Xbox One, Xbox Series X|S, cloud)
Katamari Damacy Reroll (PC, Xbox One, Xbox Series X|S, cloud)
Kentucky Route Zero (PC, Xbox One, Xbox Series X|S, cloud)
Kill It with Fire (PC, Xbox One, Xbox Series X|S, cloud)
Killer Instinct Definitive Edition (PC, Xbox One, Xbox Series X|S, cloud)
Knockout City (PC, Xbox One, Xbox Series X|S) - is leaving the service on May 31
Kraken Academy!!! (PC, Xbox One, Xbox Series X|S, cloud)
Lake (PC, Xbox One, Xbox Series X|S, cloud)
Last Stop (PC, Xbox One, Xbox Series X|S, cloud)
Lawn Mowing Simulator (PC, Xbox One, Xbox Series X|S, cloud)
Lemnis Gate (PC, Xbox One, Xbox Series X|S, cloud)
Lethal League Blaze (PC, Xbox One, Xbox Series X|S, cloud)
Library of Ruin (PC, Xbox One, Xbox Series X|S, cloud)
Life is Strange: True Colors (PC, Xbox One, Xbox Series X|S, cloud)
Lightning Returns: Final Fantasy XIII (PC, Xbox One, Xbox Series X|S)
Little Witch in the Woods (PC, Xbox One, Xbox Series X|S)
Limbo (PC, Xbox One, Xbox Series X|S, cloud)
Lonely Mountains: Downhill (PC, Xbox One, Xbox Series X|S, cloud)
Loot River (PC, Xbox One, Xbox Series X|S cloud)
Lost in Random (PC, Xbox One, Xbox Series X|S, cloud)
Lost Words: Beyond the Page (PC, Xbox One, Xbox Series X|S, cloud)
Lumines Remastered (PC, Xbox One, Xbox Series X|S, cloud)
Madden NFL 20 (cloud)
Madden NFL 21 (PC, Xbox One, Xbox Series X|S)
Madden NFL 22 (PC, Xbox One, Xbox Series X|S)
Maneater (PC, Xbox One, Xbox Series X|S, cloud)
Marvel's Avengers (PC, Xbox One, Xbox Series X|S, cloud)
Marvel's Guardians of the Galaxy (PC, Xbox One, Xbox Series X|S, cloud)
Mass Effect (PC, Xbox One, Xbox Series X|S)
Mass Effect 2 (PC, Xbox One, Xbox Series X|S)
Mass Effect 3 (PC, Xbox One, Xbox Series X|S)
Mass Effect Andromeda (PC, Xbox One, Xbox Series X|S, cloud)
Mass Effect Legendary Edition (PC, Xbox One, Xbox Series X|S, cloud)
Max: The Curse of Brotherhood (Xbox One, Xbox Series X|S)
MechWarrior 5: Mercenaries (PC, Xbox One, Xbox Series X|S, cloud)
Medal of Honor Airborne (PC, Xbox One, Xbox Series X|S)
Medal of Honor: Allied Assault (PC)
Medieval Dynasty (PC)
Microsoft Flight Simulator (PC, Xbox One, Xbox Series X|S, cloud)
Mighty Goose (PC, Xbox One, Xbox Series X|S, cloud)
Mind Scanners (PC, Xbox One, Xbox Series X|S, cloud)
Minecraft (PC, Xbox One, Xbox Series X|S)
Minecraft: Dungeons (PC, Xbox One, Xbox Series X|S, cloud)
Mirror's Edge (PC, Xbox One, Xbox Series X|S)
Mirror's Edge Catalyst (PC, Xbox One, Xbox Series X|S, cloud)
Monster Sanctuary (PC, Xbox One, Xbox Series X|S, cloud)
Monster Train (PC, Xbox One, Xbox Series X|S, cloud)
Moonglow Bay (PC, Xbox One, Xbox Series X|S, cloud)
Moonlighter (PC, Xbox One, Xbox Series X|S, cloud)
Mortal Kombat 11 (PC, Xbox One, Xbox Series X|S, cloud)
Mortal Shell (PC, Xbox One, Xbox Series X|S, cloud)
MotoGP 20 (PC, Xbox One, Xbox Series X|S, cloud)
My Friend Pedro (PC, Xbox One, Xbox Series X|S, cloud)
Myst (PC, Xbox One, Xbox Series X|S, cloud)
My Time at Portia (PC, Xbox One, Xbox Series X|S, cloud)
Narita Boy (cloud)
NBA Live 19 (Xbox One, Xbox Series X|S)
NBA 2K22 (Xbox One, Xbox Series X|S, cloud)
Need for Speed (PC, Xbox One, Xbox Series X|S)
Need for Speed Heat (PC, Xbox One, Xbox Series X|S, cloud)
Need for Speed: Hot Pursuit Remastered (PC, Xbox One, Xbox Series X|S, cloud)
Need for Speed Payback (PC, Xbox One, Xbox Series X|S)
Need for Speed Rivals (PC, Xbox One, Xbox Series X|S)
Neon Abyss (PC, Xbox One, Xbox Series X|S, cloud)
Neoverse (PC, Xbox One, Xbox Series X|S, cloud)
New Super Lucky's Tale (PC, Xbox One, Xbox Series X|S, cloud)
Next Space Rebels (PC, Xbox One, Xbox Series X|S, cloud)
NHL 20 (Xbox One, Xbox Series X|S) - is leaving the service on May 31
NHL 21 (Xbox One, Xbox Series X|S)
NHL 22 (Xbox One, Xbox Series X|S)
NHL 94 Rewind (Xbox One, Xbox Series X|S)
No Man's Sky (PC, Xbox One, Xbox Series X|S, cloud)
Nobody Saves the World (PC, Xbox One, Xbox Series X|S)
Nongunz: Doppelganger Edition (PC, Xbox One, Xbox Series X|S)
Norco (PC)
Nuclear Throne (PC, Xbox One, Xbox Series X|S, cloud)
Octopath Traveler (PC, Xbox One, Xbox Series X|S)
Olija (PC, Xbox One, Xbox Series X|S)
Omno (PC, Xbox One, Xbox Series X|S, cloud)
One Piece Pirate Warriors 4 (PC, Xbox One, Xbox Series X|S)
One Step from Eden (PC, Xbox One, Xbox Series X|S, cloud)
Ori and the Blind Forest (PC, Xbox One, Xbox Series X|S, cloud)
Ori and the Will of the Wisp (PC, Xbox One, Xbox Series X|S, cloud)
Outer Wilds (PC, Xbox One, Xbox Series X|S, cloud)
Outriders (PC, Xbox One, Xbox Series X|S)
Overcooked! 2 (PC, Xbox One, Xbox Series X|S, cloud)
Panzer Corps 2 (PC)
Paradise Killer (PC, Xbox One, Xbox Series X|S)
Pathway (PC) - leaving the service on April 15
PayDay 2 (Xbox One, Xbox Series X|S)
Peggle (PC)
Peggle 2 (Xbox One, Xbox Series X|S, cloud)
Peggle Nights (PC)
Phoenix Point (PC, Xbox One, Xbox Series X|S)
Pikuniku (PC, Xbox One, Xbox Series X|S, cloud)
Pillars of Eternity (PC, Xbox One, Xbox Series X|S)
Pillars of Eternity 2: Deadfire - Ultimate Edition (PC, Xbox One, Xbox Series X|S, cloud)
Plants vs Zombies (PC, Xbox One, Xbox Series X|S)
Plants vs Zombies Garden Warfare (PC, Xbox One, Xbox Series X|S)
Plants vs Zombies Garden Warfare 2 (PC, Xbox One, Xbox Series X|S, cloud)
Plants vs Zombies: Battle for Neighborville (PC, Xbox One, Xbox Series X|S, cloud)
Populous (PC)
Populous 2 (PC)
Power Rangers: Battle for the Grid (PC, Xbox One, Xbox Series X|S)
Prey (PC, Xbox One, Xbox Series X|S)
Prodeus (PC)
Project Wingman (PC, Xbox One, Xbox Series X|S)
Psi Patrol: Space Dogs Save Adventure Bay (PC, Xbox One, Xbox Series X|S, cloud)
Psychonauts (PC, Xbox One, Xbox Series X|S)
Psychonauts 2 (PC, Xbox One, Xbox Series X|S, cloud)
Pupperazzi (PC, Xbox One, Xbox Series X|S, cloud)
Quake (PC, Xbox One, Xbox Series X|S)
Quake 2 (PC)
Quake 3 (PC)
Quantum Break (Xbox One, Xbox Series X|S)
Rage (Xbox One, Xbox Series X|S)
Rage 2 (PC, Xbox One, Xbox Series X|S)
Rainbow Six Extraction (PC, Xbox One, Xbox Series X|S, cloud)
Rainbow Six Siege (PC, Xbox One, Xbox Series X|S, cloud)
Raji: An Ancient Epic (PC, Xbox One, Xbox Series X|S, cloud)
Rare Replay (Xbox One, Xbox Series X|S)
Recompile (PC, Xbox One, Xbox Series X|S)
Record of Lodoss War: Deedlit in Wonder Labyrinth (PC, Xbox One, Xbox Series X|S)
ReCore (PC, Xbox One, Xbox Series X|S, cloud)
Research and Destroy (PC, Xbox One, Xbox Series X|S)
Resident Evil 7 Biohazard (PC, Xbox One, Xbox Series X|S, cloud) - is leaving the service on May 31
Ring of Pain (PC, Xbox One, Xbox Series X|S, cloud)
Rise of Nations (PC)
Roboquest (PC)
Rocket Arena (PC, Xbox One, Xbox Series X|S)
Rubber Bandits (PC, Xbox One, Xbox Series X|S, cloud)
Rush: A DisneyPixar Adventure (PC, Xbox One, Xbox Series X|S, cloud)
Ryse: Son of Rome (Xbox One, Xbox Series X|S)
Sable (PC, Xbox One, Xbox Series X|S, cloud)
Scarlet Nexus (PC, Xbox One, Xbox Series X|S, cloud)
ScreamRide (Xbox One, Xbox Series X|S)
Sea of Solitude (PC, Xbox One, Xbox Series X|S)
Sea of Thieves (PC, Xbox One, Xbox Series X|S, cloud)
Second Extinction (PC, Xbox One, Xbox Series X|S, cloud)
Serious Sam 4 (PC, Xbox One, Xbox Series X|S, cloud)
Shredders (PC, Xbox One, Xbox Series X|S, cloud)
Signs of the Sojourner (PC, Xbox One, Xbox Series X|S, cloud)
SimCity 2000 (PC)
SimCity 4 (PC)
SimCity 2013 (PC)
Skate (Xbox One, Xbox Series X|S, cloud)
Skate 3 (Xbox One, Xbox Series X|S)
SkateBird (PC, Xbox One, Xbox Series X|S, cloud)
Skul: The Hero Slayer (PC, Xbox One, Xbox Series X|S, cloud)
Slay The Spire (PC, Xbox One, Xbox Series X|S, cloud)
Slime Rancher (PC, Xbox One, Xbox Series X|S, cloud)
Sniper Elite 4 (Xbox One, Xbox Series X|S, cloud)
SnowRunner (PC, Xbox One, Xbox Series X|S, cloud)
Solasta: Crown of the Magister (PC)
Space Warlord Organ Trading Simulator (PC, Xbox One, Xbox Series X|S, cloud)
SpellForce 3: Soul Harvest (PC) - is leaving the service on May 31
Spelunky 2 (PC, Xbox One, Xbox Series X|S, cloud)
Spiritfarer (PC, Xbox One, Xbox Series X|S, cloud)
SSX (Xbox One, Xbox Series X|S)
Spore (PC)
Star Wars Jedi Fallen Order (PC, Xbox One, Xbox Series X|S, cloud)
Star Wars Battlefront (PC, Xbox One, Xbox Series X|S)
Star Wars Battlefront 2 (PC, Xbox One, Xbox Series X|S, cloud)
Star Wars Squadrons (PC, Xbox One, Xbox Series X|S)
Starbound (PC)
Stardew Valley (PC, Xbox One, Xbox Series X|S, cloud)
Starmancer (PC)
State of Decay (Xbox One, Xbox Series X|S)
State of Decay 2 (PC, Xbox One, Xbox Series X|S, cloud)
Stellaris (PC, Xbox One, Xbox Series X|S, cloud)
Subnautica (PC, Xbox One, Xbox Series X|S, cloud)
Subnautica: Below Zero (PC, Xbox One, Xbox Series X|S, cloud)
Sunset Overdrive (PC, Xbox One, Xbox Series X|S)
Super Lucky's Tale (PC, Xbox One, Xbox Series X|S)
Super Mega Baseball 3 (PC, Xbox One, Xbox Series X|S)
Superhot: Mind Control Delete (PC, Xbox One, Xbox Series X|S, cloud) - is leaving the service on May 31
Superliminal (PC, Xbox One, Xbox Series X|S, cloud)
Supraland (PC, Xbox One, Xbox Series X|S, cloud)
Surgeon Simulator 2 (PC, Xbox One, Xbox Series X|S, cloud)
Middle-earth: Shadow of War (PC, Xbox One, Xbox Series X|S, cloud)
Taiko no Tatsujin: The Drum Master (PC, Xbox One, Xbox Series X|S)
Tainted Grail: Conquest (PC, Xbox One, Xbox Series X|S, cloud)
Tell Me Why (PC, Xbox One, Xbox Series X|S, cloud)
Telling Lies (PC, Xbox One, Xbox Series X|S, cloud)
Terraria (PC, Xbox One, Xbox Series X|S, cloud)
Tetris Effect: Connected (PC, Xbox One, Xbox Series X|S)
The Anacrusis (PC, Xbox One, Xbox Series X|S, cloud)
The Artful Escape (PC, Xbox One, Xbox Series X|S, cloud)
The Ascent (PC, Xbox One, Xbox Series X|S, cloud)
The Bard's Tale Remastered and Resnarkled (PC, Xbox One, Xbox Series X|S, cloud)
The Bard's Tale IV: Director's Cut (PC, Xbox One, Xbox Series X|S, cloud)
The Bard's Tale Trilogy (PC, Xbox One, Xbox Series X|S, cloud)
The Dungeon of Naheulbeuk: The Amulet of Chaos (PC, Xbox One, Xbox Series X|S, cloud)
The Elder Scrolls III: Morrowind (PC, Xbox One, Xbox Series X|S, cloud)
The Elder Scrolls IV: Oblivion (PC, Xbox One, Xbox Series X|S)
The Elder Scrolls V: Skyrim Special Edition (PC, Xbox One, Xbox Series X|S, cloud)
The Elder Scrolls Online (Xbox One, Xbox Series X|S)
The Evil Within (PC, Xbox One, Xbox Series X|S, cloud)
The Evil Within 2 (PC, Xbox One, Xbox Series X|S, cloud)
The Forgotten City (PC, Xbox One, Xbox Series X|S, cloud)
The Good Life (PC, Xbox One, Xbox Series X|S, cloud)
The Gunk (PC, Xbox One, Xbox Series X|S, cloud)
The Last Kids on Earth and the Staff of Doom (PC, Xbox One, Xbox Series X|S, cloud)
The Outer Worlds (PC, Xbox One, Xbox Series X|S, cloud)
The Pedestrian (PC, Xbox One, Xbox Series X|S, cloud)
The Procession to Calvary (PC, Xbox One, Xbox Series X|S, cloud)
The Riftbreaker (PC, Xbox One, Xbox Series X|S, cloud)
The Saboteur (PC)
The Sims 3 (PC)
The Sims 4 (PC, Xbox One, Xbox Series X|S, cloud)
The Walking Dead: A New Frontier (Xbox One, Xbox Series X|S, cloud)
The Walking Dead: Michonne (Xbox One, Xbox Series X|S, cloud)
The Walking Dead: The Complete First Season (Xbox One, Xbox Series X|S, cloud)
The Walking Dead: The Complete Second Season (Xbox One, Xbox Series X|S, cloud)
theHunter: Call of The Wild (PC, Xbox One, Xbox Series X|S, cloud)
This War of Mine: Final Cut (PC, Xbox One, Xbox Series X|S, cloud)
Titanfall 2 (PC, Xbox One, Xbox Series X|S)
Torment: Tides of Numenera (PC)
Total War: Warhammer III (PC)
Totally Accurate Battle Simulator (PC, Xbox One, Xbox Series X|S, cloud)
Totally Reliable Delivery Service (Xbox One, Xbox Series X|S, cloud)
Townscaper (PC, Xbox One, Xbox Series X|S, cloud)
Trailmakers (PC, Xbox One, Xbox Series X|S, cloud)
Train Sim World 2 (PC, Xbox One, Xbox Series X|S, cloud)
Transformers: Battlegrounds (PC, Xbox One, Xbox Series X|S, cloud)
Trek to Yomi (PC, Xbox One, Xbox Series X|S, cloud)
Tropico 6 (PC, Xbox One, Xbox Series X|S, cloud)
Tunic (PC, Xbox One, Xbox Series X|S, cloud)
Turnip Boy Commits Tax Evasion (PC, Xbox One, Xbox Series X|S, cloud)
Twelve Minutes (PC, Xbox One, Xbox Series X|S, cloud)
Two Point Hospital (PC, Xbox One, Xbox Series X|S, cloud)
UFC 4 (Xbox One, Xbox Series X|S)
Umurangi Generation Special Edition (PC, Xbox One, Xbox Series X|S, cloud)
Undertale (PC, Xbox One, Xbox Series X|S, cloud)
Undungeon (PC, Xbox One, Xbox Series X|S, cloud)
Unpacking (PC, Xbox One, Xbox Series X|S, cloud)
Unravel (PC, Xbox One, Xbox Series X|S)
Unravel Two (PC, Xbox One, Xbox Series X|S, cloud)
Unsighted (PC, Xbox One, Xbox Series X|S, cloud)
Unsouled (PC, Xbox One, Xbox Series X|S)
Visage (PC, Xbox One, Xbox Series X|S, cloud)
Vita Pinata: Trouble in Paradise (Xbox One, Xbox Series X|S, cloud)
Warhammer 40,000: Battlesector (PC, Xbox One, Xbox Series X|S, cloud)
Wasteland Remastered (PC, Xbox One, Xbox Series X|S, cloud)
Wasteland 2: Director's Cut (PC, Xbox One, Xbox Series X|S, cloud)
Wasteland 3 (PC, Xbox One, Xbox Series X|S, cloud)
We Happy Few (PC, Xbox One, Xbox Series X|S, cloud)
Weird West (PC, Xbox One, Xbox Series X|S)
What Remains of Edith Finch (PC, Xbox One, Xbox Series X|S, cloud)
Windjammers 2 (PC, Xbox One, Xbox Series X|S, cloud)
Wolfenstein 2 (PC, Xbox One, Xbox Series X|S, cloud)
Wolfenstein: The New Order (PC, Xbox One, Xbox Series X|S, cloud)
Wolfenstein: The Old Blood (PC, Xbox One, Xbox Series X|S, cloud)
Wolfenstein: Youngblood (PC, Xbox One, Xbox Series X|S, cloud)
World War Z (PC, Xbox One, Xbox Series X|S, cloud)
Worms Rumble (PC, Xbox One, Xbox Series X|S, cloud)
Worms W.M.D. (PC, Xbox One, Xbox Series X|S, cloud)
Wreckfest (PC, Xbox One, Xbox Series X|S, cloud)
Yakuza 6: The Song of Life (PC, Xbox One, Xbox Series X|S, cloud)
Yakuza: Like a Dragon (PC, Xbox One, Xbox Series X|S, cloud)
Yakuza Remastered Collection (PC, Xbox One, Xbox Series X|S, cloud)
Yes, Your Grace (PC, Xbox One, Xbox Series X|S, cloud) - is leaving the service on May 31
Young Souls (PC, Xbox One, Xbox Series X|S, cloud)
Zero Escape: The Nonary Games (PC, Xbox One, Xbox Series X|S, cloud)
Zombie Army 4: Dead War (PC, Xbox One, Xbox Series X|S, cloud)
Zoo Tycoon Ultimate Animal Collection (PC, Xbox One, Xbox Series X|S)
Zuma (Xbox One, Xbox Series X|S)
Zuma's Revenge! (Xbox One, Xbox Series X|S)