News
video games
20 July 2015, 14:20
Patch 1.07 for Witcher 3: The Wild Hunt is Available on PC and Xbox One
PC and Xbox One users living outside of the US can finally download the 1.07 upgrade for Witcher 3: The Wild Hunt. Materials showing how the patch changed the game are available on the web.
A few days ago the 1.07 patch rolled out for console versions of the Witcher 3 in the US. The day before yesterday, as it was previously announced, the update became available to PC and Xbox One users around the world. Although the update was to be simultaneously released for PlayStation4 as well, for reasons yet unknown, you won't find it on the European PSN at the moment.
The update offers, among others, a new, optional movement scheme for Geralt. Many glitches have been removed; including those that got in the way of completing certain quests or hampered horseback riding. The inventory screen now allows us to bring some order to books and letters we collect. Crafting components as well as alchemical ingredients won't be weighting us down anymore.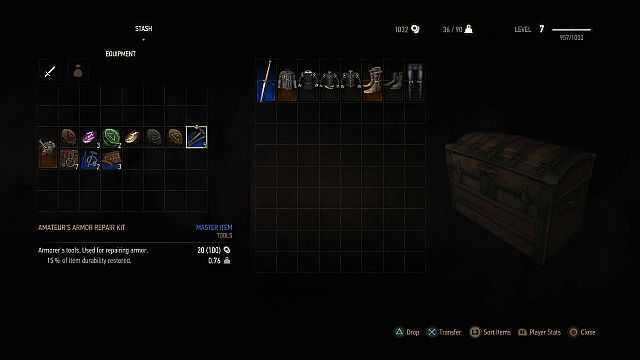 Stashing items.
PC, PlayStation4 and Xbox One versions of Witcher 3: The Wild Hunt hit the stores together on the 19th of May this year. The game was very well received and quickly became a best-seller, with well over 4 million copies sold. The developers are currently working on two big DLCs: Hearts of Stone and Blood & Wine, with the first one scheduled for release in Fall 2015. Completing both of them will require roughly 30 hours of gameplay; that's almost as long as the main story of Witcher 2: Assassins of King.