News
video games
20 November 2023, 05:23
author: Zuzanna Domeradzka
The Last of Us Part 2 Remastered on Early Visual Comparisons
How different will the upcoming remaster of The Last of Us Part II be from the original? The first visual comparisons have appeared online. It's hard to find differences in the appearance of the games.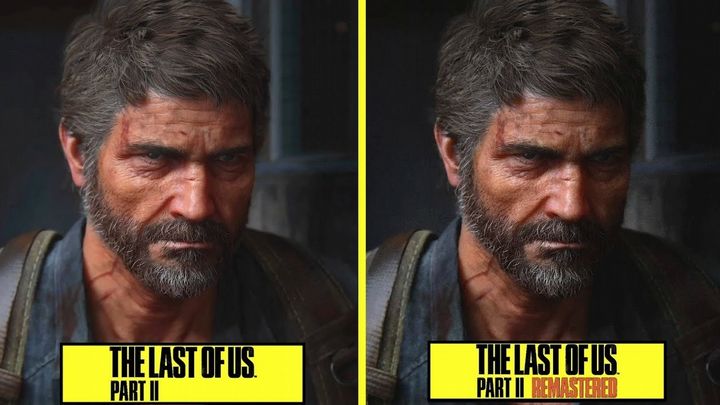 Source: Sony / YouTube - Cycu1
i
On Friday, Sony officially announced the remaster of the highly rated PlayStation 4 hit - The Last of Us Part II. It will be a slightly improved port of the PlayStation 5 edition with a few novelties, rather than a full-fledged overhaul.
Only one short trailer of the upcoming remaster is available online, based on which fans attempt visual comparisons with the original. However, even the most observant people will probably have a hard time pointing out major differences. Anyway, judge for yourself whether the improvement in the remaster is noticeable to the naked eye or not by watching one of the short comparisons (below).
Aside from microscopic changes in lighting and shadows, it's hard to find other improvements, if only in character models. Nevertheless, players should not be disappointed with the content of the new version of The Last of Us Part II, as it will offer a number of novelties, including new gameplay modes, levels and character skins. In addition, the game will be playable in up to 4K resolution with all the features offered by the DualSense controller. You can learn more about the remaster here.
So the number of novelties may justify the fact that the "refresh" will not be free even for the players who already own The Last of Us Part II on PS4. Such people will have to pay $10 for the remaster on Sony's latest console. We still do not know how much the new version of the game will cost on PS5 - certainly more than TLoU Part II on PS4, for which you have to pay around $30 on PS Store.
The Last of Us Part II Remastered will be released on January 19, 2024 on the PlayStation 5 console.