News
video games
18 October 2023, 03:56
Vampire Survivors Update 1.7 Release Date [Update #2]
During a recent AMA session, the developers of Vampire Survivors answered numerous questions from the fans. Now we learned the release date of the Whiteout update.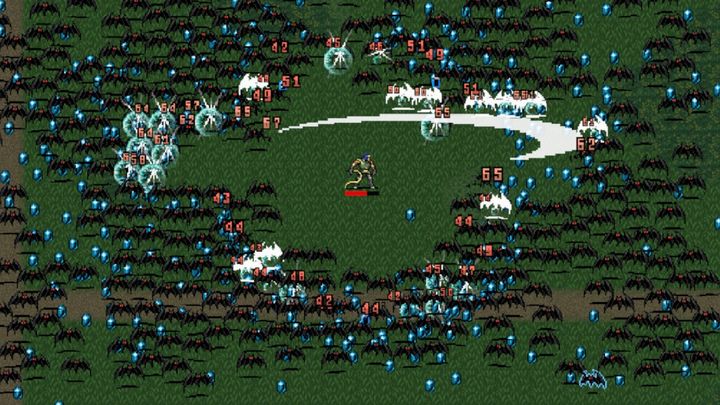 Update #2
poncle has confirmed that the free update called Whiteout for Vampire Survivors will be released tomorrow, i.e., on October 19. More details on its content can be found below.
Update #1 (September 27)
poncle has released the first trailer for a new free update called Whiteout (patch 1.7). It will expand the game with, among other things, a new frosty stage, another character, weapons and more. The update will be released soon on all hardware platforms.
Original news (September 26)
Minimalist, independent game Vampire Survivors took the industry by storm last year (although it debuted in Eealy Access in December 2021). The addictive gameplay and pleasing retro visuals stole the hearts of thousands of players, who eagerly dedicated themselves to fighting countless waves of enemies.
Commercial success contributed to the game being ported to other platforms, and also enabled the developers from poncle to introduce new elements, such as a local cooperative mode. Now the developers have commented on their future plans in a AMA session on Reddit.
Possible online feature and an illusive vampire
One of the more interesting questions that came up at the Reddit event was the one related to the introduction of online co-op into the game. Answering them, studio director confirmed that the introduction of a similar feature is under consideration:
"Yes, we are exploring the possibility of [introducing - ed. note] online co-op, but at the moment we can't promise anything, as it is a huge undertaking."
Among the topics raised during the conversation, there was also the potential sequel. Speculation about it, however, was quickly dismissed:
"[Plans - ed. note] for a proper sequel? Not necessarily, we just keep adding things to the existing game and that's what we will continue to do for now. If we ever do take on a sequel, it will have to be decidedly different from the current game."
One fan also asked a question about the elusive Vampire from the title, who stubbornly refuses to appear in the actual game. One of the developers playfully explained all the confusion:
"The Vampire is a bit shy, try later."
Although elusive, the bloodsucker may still lurk somewhere inside the game, because as poncle's representative added:
"No one has found the Vampire yet."
It's hard to say whether the developers' words should be taken as a joke, or perhaps Vampire Survivors still hides a great undiscovered secret. It seems that the game's community still has quite a mystery to solve.