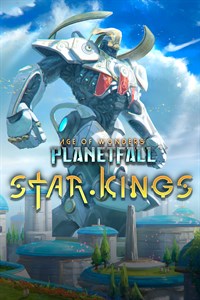 Age of Wonders: Planetfall - Star Kings
Star Kings is another add-on to turn-based strategy Age of Wonders: Planetfall. It introduces a new faction with its own campaign and previously unknown types of animals. In addition, the gameplay is enriched by grails, which can be placed on the map to make things easier.
This is Age of Wonders: Planetfall expansion pack.
Strategy | science fiction | turn-based | 4 x | RPG elements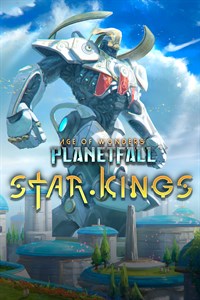 Game mode: single / multiplayer
Multiplayer mode: Internet / E-mail / hotseat, players: 1-12
Age of Wonders: Planetfall - Star Kings is the third (after Revelations and Invasions) big add-on to the turn-based science fiction strategy Age of Wonders: Planetfall published in 2019. The expansion, like the main game, was developed by the Triumph Studios team.
Plot
In add-on, a new power is joining the cosmic war in the form of Oathbound faction, the noble race of Paladins in massive battle suits wielding arc weapons, who try to unite the various groups and re-form the Star Union, bringing peace to the galaxy.
In the campaign, we are leading the Paladin, which must find the ancient Grail Configuration and save the galaxy. If she fails, she will witness the end of humanity.
Mechanics
Star Kings is a classical add-on. The developers have not made any radical changes to the gameplay mechanics, instead focusing on offering additional content. The biggest novelty is the introduction of the playable fraction of the Oathbound. Its armies consist mainly of Paladins, i.e. noble warriors who are forged in great mechanical armour and hold electrical weapons. In the battles they are assisted by the mysterious Seers, who have the ability to predict the future.
An important novelty is the introduction of the Grails, which are powerful objects on maps, the addition of which provides long-term bonuses. Unlocking them requires multi-stage tasks, but they are worth the effort as they make it much easier to build the most powerful empires.
Another attraction is the introduction of three new groups of wild animals, which we have to deal with on maps. Among them there were vampire-like rock creatures known as the Psionica and the Mycelians, i. e. cyborgs, which were created as a result of the takeover of agricultural machinery by conscious mushrooms. On top of that, there are the Apostates, the former Oathbound, who have abandoned the tradition of their ancestors and have succumbed to chaos.
Game modes
Like the main game, Age of Wonders: Planetfall - Star Kings offers both multiplayer and single player modes. Single player gameplay includes a new, extensive story campaign for the Oathbound fraction.
Technical aspects
Star Kings is not a stand-alone add-on, so a full version of Age of Wonders: Planetfall is required to play.
PEGI Rating
System requirements
Minimum:
Intel Core i5-3470 3.2 GHz
6 GB RAM
graphic card 1 GB GeForce GTX 650 Ti / Radeon HD 7770 or better
20 GB HDD
Windows 7(SP1)/8.1/10 64-bit
Recommended:
Intel Core i5-7500 3.4 GHz
8 GB RAM
graphic card 3 GB GeForce GTX 1060 / 4 GB Radeon RX 570 or better
20 GB HDD
Windows 10 64-bit