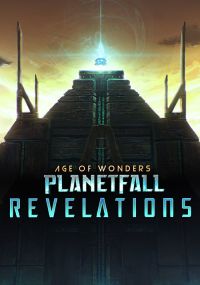 Game mode: single / multiplayer
Multiplayer mode: Internet / E-mail / hotseat, players: 1-12
Revelations is the title of the first large expansion for Age of Wonders: Planetfall, a turn-based strategy being and a spin-off of the popular Age of Wonders series. The patch was developed by the creators of the original, i.e. Triumph Studios.
Plot
Age of Wonders: Planetfall - Revelations focuses on the resurrected Es'Teq dynasty after the fall of the Star Alliance, namely the Heritor people who came from it and are trying to take control of the entire galaxy. Our task is to stop their victorious march or join them and take part in the birth of a theocratic empire.
Mechanics
The mainstay of Age of Wonders: Planetfall - Revelations are two new campaigns, in which we visit over thirty new locations. In addition, the Tomb World, a scenario for battle-experienced players, is waiting to be tested, where we can play both solo and in the company of others, thanks to a specially prepared questline.
As we play, wecan take control of Heritor technology to suck out the essence of our enemies, gain access to powerful combat abilities, summon additional units and create entropy weapons. The add-on introduces new opponents, i.e. harvesters (machines trying to annihilate every organic creature they meet), megasow (mutant animals devouring everything that stands in their way), and the Forgotten (a faction of outcasts that do not match the utopian vision of Heritor society).
The list of innovations is closed with new locations and mechanics, such as Es'Teq well and Essence gash, which provide our army with new effects and skills, a holopad that increases our ability to influence enemies and allies, and imperial defences that give us an advantage over our opponents (such as fire missile launchers, cluster mine launchers, and soul beacons).
With the add-on, the base game received a free update, which brought the possibility of occupying new imperial defense, and also introduced orbital transmitters allowing for rapid transport of units between sectors.
Game modes
Just like the base version of Age of Wonders: Planetfall, Revelations enables us to play solo or in multiplayer mode.
Technical aspects
Revelations is a non-standalone add-on, so it requires the base game to work.
Similar games:
PEGI Rating
System requirements
PC / Windows
Recommended: Intel Core i5-7500 3.4 GHz, 8 GB RAM, graphic card 3 GB GeForce GTX 1060 / 4 GB Radeon RX 570 or better, 20 GB HDD, Windows 10 64-bit
Minimum: Intel Core i5-3470 3.2 GHz, 6 GB RAM, graphic card 1 GB GeForce GTX 650 Ti / Radeon HD 7770 or better, 20 GB HDD, Windows 7(SP1)/8.1/10 64-bit