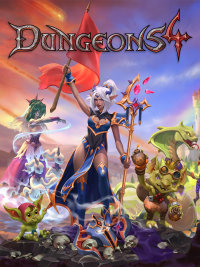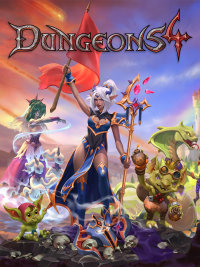 Dungeons 4
The fourth installment in an RTS series inspired by Dungeon Keeper. Dungeons 4 has us playing as the dark lord, aiming to conquer the fantasy world. The game supports singleplayer and co-op.
Strategy | fantasy | Economic | RTS | Isometric view | co-op | Game Pass
Dungeons 4 is the fourth installment in a series originating from 2011. Like the previous games, it's an RTS heavily inspired by the iconic Dungeon Keeper. It was developed by Realmforge Studios and published by Kalypso Media.
Plot
Dungeons 4 is set in a fantasy world, after the previous installment. Once again, we play as the Absolute Evil - the dark lord on a quest to conquer the world alongside the trusted elf Thalya. The people of the surface oppose us, trying to foil our plans. Beneath the surface another rival lurks, in form of dwarves, craving gold and jewels.
Mechanics
Dungeons 4 makes use of the top-down perspective. As before, the gameplay consists of two layers. The first one is building dungeons, serving as home and headquarters to our troops. Our dungeons must be vast, comfortable and properly secured. Humans and dwarves are all drawn to the treasures within and will attack us to claim them.
The second are battles fought on the surface, during which we command troops we've recruited in the dungeons. Our primary units are the undead, demons, horde and snots. During fast-paced combat, the player can also use Thalya's various abilities. Aside from regular enemies, we'll also face powerful bosses, such as unicorns. Victories reward us with evil, which we can use to transform idyllic forests and plains into a wicked empire.
The game's scale has been significantly increased. The surface world and the dungeons are much bigger than in Dungeons 3, armies are massive and more diverse, we can command our troops more effectively and punish them more creatively for failures.
Game modes
Dungeon 4 features an expansive story campaign featuring the same narrator as the previous games, as well as standalone scenarios. The game supports singleplayer and co-op.
Technical aspects
Dungeons 4 features appealing, colorful, cartoonish visuals.
Last updated on 08 November 2023
Game mode: single / multiplayer Multiplayer mode: Internet Player counter: 1-2
Age restrictions Dungeons 4: 16+
Dungeons 4 System requirements
Minimum:
Intel Core i5-8400 2.8 GHz / AMD Ryzen 5 2600 3.4 GHz
16 GB RAM
graphic card 4 GB GeForce GTX 960 or better
12 GB HDD
Windows 10 64-bit
Recommended:
Intel Core i7-10700 2.9 GHz / AMD Ryzen 5 5600X 3.7 GHz
16 GB RAM
graphic card 8 GB GeForce RTX 2070 or better
12 GB HDD
Windows 10 64-bit