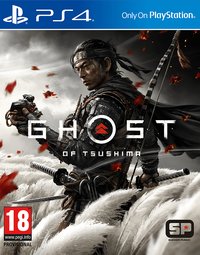 game language: English
game release date for PS4:
17July2020
Ghost of Tsushima is a title developed exclusively for PS4. It was developed by the American studio Sucker Punch Productions, the creators of InFamous series and Sly Cooper series. Their newest project was kept in secret for three and a half years. It was presented for the first time during the Paris Games Week 2017.
Plot
The year is 1274. The Mongol Empire rules over the whole Asian continent. Its rulers are hungry of the riches of the Feudal Japan. The Khan decides to start an invasion. Its first target is the island Tsushima, located in the middle of the Korean Strait. During the assault, the Mongol armies decimate one of the islands. Among the casualties there are the family and friends of the main protagonist of the game, a samurai tasked with defending Japan. He manages to escape and from now his task is to avenge the fallen close ones and to stop the Mongols. To achieve this objective, he must forget the Samurai traditions and learn a new fighting style – the Ghost style.
Mechanics
Similarly to other games created by the developers of InFamous series, Ghost of Tsushima for PS4 is a third-person perspective open-world action game. The player can travel the game's world on foot or on a horse. The developers put a strong emphasis on stealth system. The enemy has great advantage in numbers, so despite the fact that there are many weapons available in the game – from katana swords to bows – a direct confrontation is rarely the best choice of action.
In being stealthy it is important to be clever and to use various gadgets that can distract the opponents – including smoke bombs.
Ghost of Tsushima lacks a classic marker system that can lead the player to mission objectives. The elements of the surroundings serve this purpose instead – by looking around, the player can notice tracks or characteristic navigation points, which should be a good incentive to explore the world thoroughly.
Technical aspects
Ghost of Tsushima for PS4 takes place on the titular island that is fully open for exploration. The surroundings are very diverse and they include bamboo forests, small islands and temples. The developers focused on realistically recreating all places, making the game world deeper – it becomes one of the main protagonists of the story.

Game score 8.68 / 10 calculated out of 629 players' votes.
Expectations before the premiere: 6.3 / 10 calculated out of 1570 players' votes.
PEGI Rating