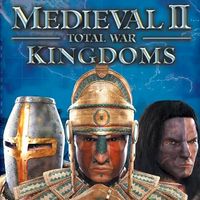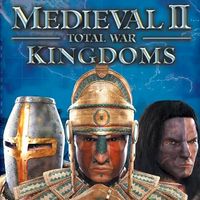 Medieval II: Total War - Kingdoms
An official expansion pack for Medieval II: Total War, another installment in a series of popular strategy games developed by Creative Assembly - the base game was released at the end of 2006. Kingdoms introduces mainly four new campaigns.
This is Medieval II: Total War expansion pack.
Strategy | RTS | turn-based | the middle ages | war strategy
Medieval II: Total War - Kingdoms for PC is the first official expansion pack for a popular strategy game belonging to a bestselling series developed by Creative Assembly (the base game was released in 2006). Again, the player travels to the past in order to put their skills to test in battles, though they are also required to have certain economy and diplomacy related skills.
Plot & Mechanics
Four campaigns constitute the core of this expansion. The first of those takes the player to the New World, discovered in 1492 by Christopher Columbus. The second campaign gives an opportunity to participate in Hernan Cortez's conquests in Central America. Obviously, the main goal here is to conquer the lands of the Aztecs and take all their possesions in the name of the king of Spain. The player can also take command over the native Americans, trying to repell the strange newcomers from the other side of Atlantic. The other two campaigns are typical medieval ones, set in Europe. Thus the player participates in events concerning the Teutonic Order's fight against pagan peoples from Northeast, crusades in the Holy Land, as well as in military conflicts which took place when Henry III was the king of England.
Medieval II: Total War - Kingdoms for PC introduces thirteen completely new factions with their own technology trees, having over a hundred different combat units (Greek fire thrower for instance), fifty buildings, and more. Many additional key figures appeared in the expansion as well, such as Richard the Lionheart or Saladin. Combined with twenty separate scenarios, the singleplayer mode in Medieval II: Total War – Kingdoms offers nearly eighty hours of exciting gameplay. All of this is complemented by fifteen maps for the multiplayer mode. Lastly, it is worth noticing that two gamers at the same computer can play a campaign in the hot-seat mode.
Game mode: single / multiplayer Multiplayer mode: Internet Player counter: 1-8
Media type: 1 DVD
User score: 8,7 / 10 based on 1877 votes.
PEGI rating Medieval II: Total War - Kingdoms
Total War: Medieval II - Kingdoms System requirements
Recommended:
Pentium 4 1.8 GHz
512 MB RAM
graphic card 128 MB (GeForce 4 or better)
Windows 2000/XP