News
video games
30 December 2022, 09:30
My Time at Sandrock - Mole Cave and Magnesium Ore Explained (Updated)
If you're looking for Mole Cave in My Time at Sandrock, you've come to the right place. We will also tell you what the problem with Magnesium Ore is and where to find it.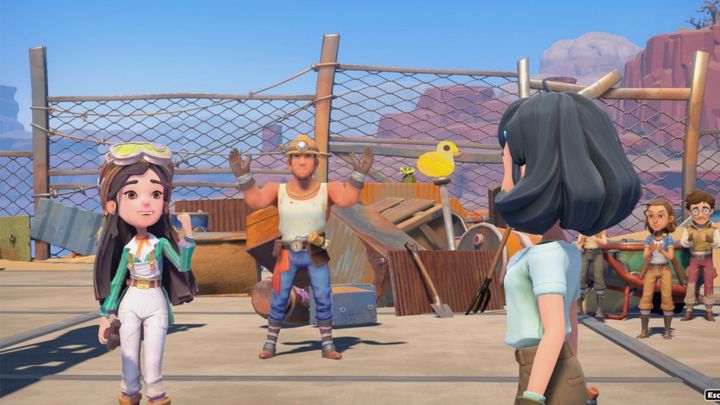 My Time at Sandrock is still in early access, but already this game has gathered thousands of loyal fans. Players are eagerly awaiting new updates and game elements. One of these is the Mole Cave. In this article, we will talk about it. In addition, we will touch on the issue of raw materials, including the magnesium ore.
Where to find Mole Cave in My Time at Sandrock
Update:
The developers have already added Mole Cave to the game. To get to it, all you need to do is complete main missions. You will gain access to this location after The Goat quest. However, access to this place will cost you 500 Gols per week.
Original news:
The short answer - nowhere. Unfortunately, for the time being Mole Cave is not in the game. This is due to the difficulties of Pathea Games. The studio had to switch to remote working mode, which delayed work slightly. As a result, the Hey Old Pal! update planned for November had to be split into 2 parts. Unfortunately, the location Mole Cave was not included in the first one. You will have to wait patiently to get to it. The developer has announced that they will try to release the second part of the update by the end of December, or if that fails, as soon as possible.
Magnesium ore, Aluminum ore and other Resources in Mole Cave
Update:
In Mole cave you can find resources such as Aluminum ore (levels 1-4, 9-11) and Magnesium ore (levels 5-11). In addition to these, of course, you will be able to come across more common materials, such as: Data Disc, Power Stones, Dinas, Sulfur, Stone and Graphite.
In addition, you will be able to collect relics: Passya Game Kid (2 pieces), Stone Painting (3 pieces), Ferris Wheel (3 pieces), Terracota Soldier (2 pieces), Floating Galaxy (3 pieces), Sundial Piece (3 pieces), Giant Wild Goose (4 pieces), Train Model (5 pieces) and Great Wall (5 pieces).
You will also find the following useful things here: Processor, Pressure Gauge, Gravity motor and expert toolbox.
Original News:
You are probably on this page because you are looking for the raw materials you need. While Mole Cave is unavailable for the time being, Whispering Valley always remains. Continue playing until you gain access to this location. Here you will find Aluminum Scrap and Advanced Mechanical Scrap. Processing these raw materials will give you most of the necessary resources for construction - Aluminium Bars, for example. You will also be able to find some raw materials during story missions and by searching through crates. So it's worth looking around. Unfortunately there is no permanent and reliable access to Magnesium ore, but you can supposedly find it during the Shipwreck Confidential story quest in Shipwreck Hazardous Ruins.
For a more permanent source of resources, you will have to wait for the next update and for the introduction of the Mole Cave. Be patient.