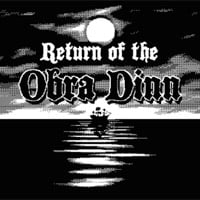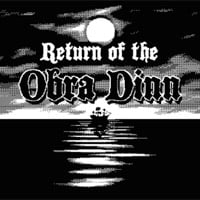 Return of the Obra Dinn
Return of the Obra Dinn is an FPP adventure game by Lucas Pope, in which you play as an investigator working for the East India Company in the 19th century and your task is to discover the truth behind the disappearance of the entire crew of a trading ship.
Adventure | FPP | Detective | ships | indie games | experimental/art | 19th century
Return of the Obra Dinn is an FPP detective adventure game. It was developed by Lucas Pope, known for e.g. Papers, Please and The Republia Times.
Plot
The eponymous Obra Dinn is a trade ship, which in 1802 departed London and sailed to Asia, carrying two hundred tons of precious cargo. She was supposed to reach the Cape of Good Hope in six months and then continue her journey. Unfortunately, it never happened, and the ship was announced missing after a short search. Surprisingly, six years later, the Obra Dinn arrives in London on 14 October 1808. Her sails are damaged, and there is not a single person on board. You play as an insurance agent working for the East India Company. The agent has to get onto the ship and discover what really has happened. An important clue is the captain's journal, but first, you have to find it.
Mechanics
The plot is a typical detective story, in which you discover fragments of the puzzle, and with some effort, you can deduce the truth before the protagonist does. The production is an adventure game, so you need to be clever, and the gameplay involves mostly exploring the ship and solving puzzles. The puzzles, however, are unusual for the genre and instead of searching for items and using them, you look for clues and compare them to the captain's notes, which allows you to solve the mystery.
Technical aspects
Return of the Obra Dinn differs from Lucas Pope's other games. It doesn't feature a political aspect, and the gameplay mechanics are more traditional. The author, however, still used some experimental features, but this time, they pertain to the mode of storytelling and the way of generating visuals. The visuals are 3D, allowing you to freely explore the ship, while they've been done in a black-and-white pixel-art style, giving the production the look resembling old games for the Apple II computer.
Game mode: single player
User score: 9,2 / 10 based on 720 votes.
Pre-release expectations: 8.9 / 10 based on 135 votes.
PEGI rating Return of the Obra Dinn
Return of the Obra Dinn System requirements
Minimum:
Intel Core i5 2.0 GHz
4 GB RAM
graphic card Intel HD or better
2 GB HDD
Windows 7