Portal Video Game Series
Video Games Encyclopedia by Gamepressure.com

Bridge Constructor Portal
Puzzle 20 December 2017
A simple puzzle game created by ClockStone studio in the agreement with Valve company, and a crossover of Portal and Bridge Constructor series. The players must build various and often complex constructions in order to safely transport the cargo from one side of the map to the other. There are many obstacles to overcome, including turrets, lasers and acid pools. There are also features from the cult classic series from Valve, like portals and gels that change properties of a surface, not to mention the well-known and loved artificial intelligence GlaDOS.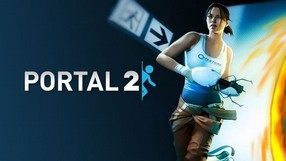 Portal 2
Puzzle 19 April 2011
The second part of an outstanding first-person logic game from Valve Software, powered by the improved version of Source Engine, mainly known from Half-Life 2. The story starts a few hundred years after the events of the original game. Once again you play as Chell, who is awaken after having spent a long time asleep in a hibernation chamber. Trying to find her way out of Aperture laboratories, she gets stopped by an artificial intelligence that manages the compound. The AI puts the protagonist against new challenges. In order to deal with them, the heroine has to prove her knowledge of the laws of physics and make a good use of a special device able to move objects and open worm-hole portals. In the sequel, the developers gave the players much more freedom of action. This not only enriched the gameplay, but also made it much more demanding. Portal 2 features a co-op mode, offering an additional campaign with a separate storyline.
Portal
Puzzle 10 October 2007
First-person action game, innovative logical production by Valve studio, created while working on second expansion to cult Half-Life 2. In the game we play as a woman named Chell, who wakes up inside of scientific research complex Aperture, where she has to go through a series of tests. Our task is to get through the maze of rooms and corridors of the facility using a prototype weapon with properties reminiscent of Gravity Gun known from Half-Life. It gives the ability to create title portals, connecting any two points in space.