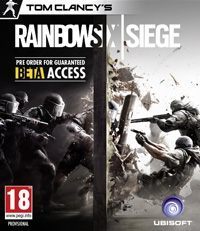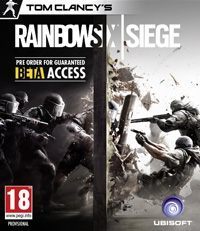 Tom Clancy's Rainbow Six: Siege
Rainbow Six Siege, R6S, Rainbow 6 Siege
The next installment in the tactical shooter series Rainbow Six endorsed by the author Tom Clancy. The game was developed by Ubisoft Montreal Studio, known for bestsellers such as Watch_Dogs and the Assassin's Creed franchise.
Action | FPP | terrorism | tactical | FPS | network | co-op | shooters | Xbox Game Pass
In 2011 Ubisoft announced Tom Clancy's Rainbow 6: Patriots. It was supposed to be another installment in the famous series of tactical shooters, this time focusing on combat with a terrorist organization called True Patriots. Since then, years had passed, and the project slowly faded away. Finally, the publisher decided to unveil Rainbow Six: Siege, tailor-made for multiplayer gameplay. This title replaced Patriots, which failed to meet the expectations of the French company. This PC, PS4 and XONE game features skirmishes of antiterrorist special forces with criminals. The game was built on AnvilNext technology, the engine used in several other Ubisoft titles, including the Assassin's Creed series, For Honor, and Tom Clancy's Ghost Recon Wildlands.
Before you start playing Rainbow Six: Siege you choose your soldier's specialization. Each time you play you can decide whether you want to raise barricades as Castle, remove obstacles as Thermite, cripple enemy communication as Mute, break open doors as Ash, wield a huge sledgehammer as Sledge, or poison enemies as Smoke. Of course, these are not all character classes available, and it is important to compose a team whose members complement each other in combat.
Combat takes place in small, relatively narrow locations, where you have to quickly clear one room after another until you get rid of terrorists and free any hostages. In order to do this, you often have to blow up a wall, plant explosives on the floor to attack enemies from above, and so on. On the other hand, when playing as terrorists you must barricade doors and fortify your positions, so as not to get caught off guard by the law enforcement units. Either way, in order to defeat a smart team of players you need constant communication, teamwork, and proper tactics.
Gameplay is fast-paced and exciting, yet tactical, mostly thanks to destructible environment. The game engine lets you destroy not only doors, but also barricades and walls. As a result, battlefields are dynamically changing in the course of a skirmish, which often requires adjusting your well-planned tactics on the spot.
In terms of graphics quality Rainbow Six: Siege for PC, PS4 and XONE doesn't set new standards in video gaming, but it is surely satisfying. The aforementioned damage system not only enriches the gameplay, but also spices up the visuals, giving them a specific character.
Game mode: multiplayer Multiplayer mode: Internet Player counter: max 10
User score: 7,4 / 10 based on 3299 votes.
Pre-release expectations: 7.9 / 10 based on 672 votes.
PEGI rating Tom Clancy's Rainbow Six: Siege
Tom Clancy's Rainbow Six: Siege System requirements
Minimum:
Intel Core i3-560 3.3 GHz/AMD Phenom II X4 945 3.0 GHz
6 GB RAM
graphic card 1 GB GeForce 460/Radeon HD 5870 or better
30 GB HDD
Windows 7/8.1/10 64-bit
Recommended:
Intel Core i5-2500K 3.5 GHz/AMD FX-8120 3.1 GHz
8 GB RAM
graphic card 2 GB GeForce GTX 670/Radeon HD 7970 or better
47 GB HDD
Windows 7/8.1/10