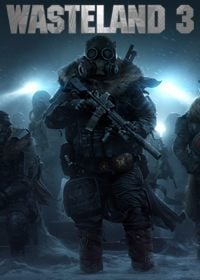 Game mode: single / multiplayer
Multiplayer mode: Internet, players: 1-2
Wasteland 3 for PC, PS4 and XONE is another installment in the cult postapocalyptic role-playing games by an indie studio inXile Entertainment. Compared to its predecessor, the game introduces a variety of changes and enhancements, both to the setting and the gameplay. Just like in the previous games' case, the production was crowdfunded soon after the initial announcement — the goal was to gather at least 2.75 million dollars.
Plot
Wasteland 3 no longer takes place in the deserts of Arizona, instead being set in the icy Colorado. You play as a member of Team November, a formation which was a part of the Desert Rangers. Your partners were killed, and to make things worse, the locals have no idea about the existence of the elite soldiers. You have to build your position from scratch, which you do by completing various main and side quests. As the game progresses, you discover new plots and plot twists, and the ending depends on the decisions you make.
Mechanics
The gameplay of Wasteland 3 for PC, PS4 and XONE consists mostly of exploration and combat with encountered enemies. The exploring part has been made easier by implementing vehicles, which can be used not only as means of transport, making it easier to move around, but also as portable storerooms, where you can keep your items. The battles are still turn-based, but now they feature team abilities, which allows you to use more advanced tactics. Of course, not all problems need to be solved with violence — the dialogue system has been expanded, and now resembles the one utilized in Torment: Tides of Numenera. The conversation can now go many ways, and you can use some of your abilities during them to achieve your goals.
The Ranger base from Wasteland 2 gained more importance and is now the central element of the game world. In this installment, you not only have to build it from scratch, but also develop it by implementing upgrades — the base being not just the source of resources, but also a diplomacy center for negotiating with the Colorado factions.
Game mode
You can play Wasteland 3 both on your own and or with another player. The game includes a co-op multiplayer mode, which allows you to play even if your partner is not present — however, the consequences of your actions will matter for both of you.
Technical aspects
Wasteland3 for PC, PS4 and XONE utilized a new version of the Unity engine, which was also used in the second installment of the series. The visuals are of very high quality and have been created by a team led by Christopher and Nic Bischoff, also known for the well-received Stasis.
System requirements
PC / Windows
Minimum: Intel Core i3-2120 3.3 GHz / AMD Phenom II X4 960T 3.0 GHz, 8 GB RAM, graphic card 2 GB GeForce GTX 750 Ti / Radeon RX 460 or better, 22 GB HDD, Windows 8.1/10 64-bit