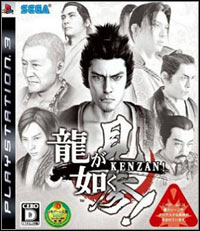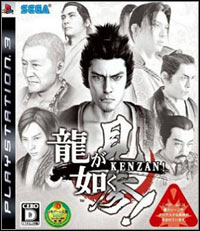 Yakuza: Kenzan!
PS3
Ryu Ga Gotoku: Kenzan!
Action game, shown from the perspective of a third person and belonging to the popular series. In this part of the action takes place not in modern times, but in the era of Japanese feudalism.
Yakuza: Kenzan!

Release Date PS3

06March2008
developer: Amusement Vision publisher: SEGA

game language: Japanese
Yakuza: Kenzan! is the next installment of a popular series of action games created under the watchful eye of Toshihiro Nagoshi. The game is a prequel to the previous parts of the game, this time we change the already known to us modern Japan for feudal times. The production was developed by Amusement Vision studio, its publisher was Sega company.
The plot takes us back to the 17th century, to the beginning of the Edo era, which lasted from 1603 to 1868. The main character of the game is samurai Miyamoto Musashi, who lives in the entertainment district of Kyoto and introduces himself there as Kazumanosuke Kiryu. A man there protects those who are able to pay lavishly for it. Once he meets Haruka, a young girl offering money for getting rid of a certain man. The aim is to be.... Miyamoto Musashi.
Characters known to the fans of the series were moved to the then capital of Japan - Kyoto, partly reconstructed by the creators of the programme. In the district of Gion, which is actually a city in the city, the player is considered to be a kind of playboy. Outside this area, Kiryu transforms into Musashi and then, in moments of danger, unscrupulously cuts into pieces of his opponents, using his learned fighting styles. These in turn are connected with the chosen weapon, such as large and heavy swords inflicting powerful, single blows or one-handed, great for inflicting a series of blows.
The main character acquires special games while witnessing various events, drawing the necessary inspiration from even the most ordinary situations, such as when the farmer is surprised by an aggressive cry or when observing the behaviour of a dog trying to catch a bone. The skill development system allows you to take care of the hero's development, but the best way to get new skills is to go to the masters of a given profession. The blacksmiths, on the other hand, are eager to take care of the gutter folded on their hands.
In Yakuza: Kenzan! we see a detailed and vibrant world. At every step of the way we meet the residents sitting at e.g. the entrances to shops, where they eat or do other activities. Like the first two versions of the series, here too we will come across many mini-games. These include: playing dice, Japanese chess, archery or a turtle race.
Please let us know if you have any comments or suggestions regarding this description.
Game mode: single player
Media type: 1 BD
User score: 9,4 / 10 based on 447 votes.
Age restrictions Yakuza: Kenzan!: 18+