News
video games
14 December 2022, 16:15
New DLC for Cities: Skylines and Mods; Players Relieved
Cities: Skylines has received another addition with an update. Fortunately, Financial Districts mostly spared frustration to any players using mods.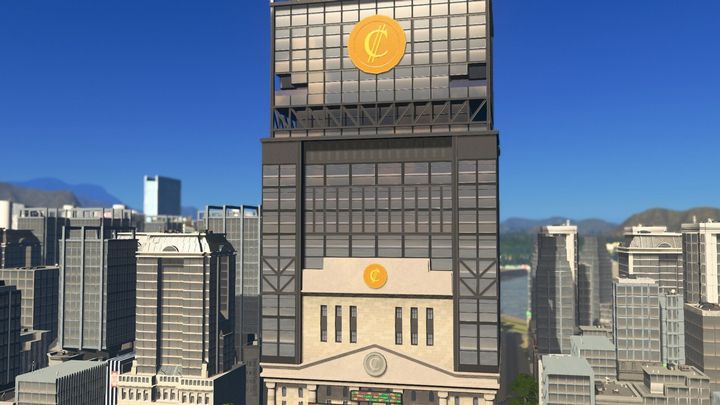 Expansions for favorite games are usually a cause for celebration for the fans. Unless we're talking about people who use mods, to whom the previous expansion for Cities: Skylines spoiled a lot of blood.
Many fans had concerns that the situation would repeat itself in December. Fortunately, it looks like Cities: Skylines - Financial Districts and the accompanying free update to version 1.16.0-f3 have not caused any major problems for moddes.
What's new in Cities: Skylines?
The mini-expansion launched yesterday. The main novelty is the eponymous financial districts. As you can easily guess, they generate much more tax revenue than basic office zones, albeit reducing the satisfaction of residents.
In addition, Cities: Skylines received banking buildings (along with special vans that somehow deter nearby criminals), stock exchanges and mechanics for investing in various industries.
Update 1.16.0-f3, on the other hand, is primarily a variety of fixes, but also includes five new pets and more color correction options. The full list of changes can be found on Paradox Interactive's official forum. More content packs prepared by the community have also gone on sale, including one with African themes.
The modders are crying....
Unlike some publishers, Paradox not only does not battle mods, but actually actively promotes fan creations. The work of Colossal Order is no different. Only that subsequent expansions and updates for Cities: Skylines spoiled the compatibility of mods.
This is not surprising - after all, updates often change the game code, on which, after all, the mods are based. However, the mini-expansion called Plazas & Promenades proved particularly disastrous for fans of modding community of Cities: Skylines. Enough to take a look at the ratings of this DLC on Steam two months after the release: almost half were negative reviews, mostly from people complaining about broken save files and mods.
...but not this time
It's not hard to guess that this time, too, fans had concerns about the update. Fortunately, the developers and modders did a good job. The list of broken popular mods so far consists of only three items (via Reddit), of which one is actually a minor glitch. Arguably, there are more problems, but this is already a significant improvement over September's wave of bugs.
What probably helped was the fact that this time there was little time between the release of the update. At the release of Plazas & Promenades many players were using mods that had already been abandoned by the developers. So the developers had no one to share the DLC with before the release to take care of the compatibility of the mods. This time, only two months have passed since the release of the previous update instead of more than six months.
Nevertheless, the developers point out a few issues that mod using players should keep in mind.
Compability Report like new
As of November Cities: Skylines can display messages about "incompatible" modifications. However, this feature only checks the version of the game on which the latest mod release was based. In practice, the notification may appear, and the modification will still work without problems.
It is also worth using the official Compability Report v2.0.6 tool, which creates a detailed report on mod performance, including a list of possible glitches. It will not make any changes on its own, but it will make it easier for you to detect troublesome modifications. CR can be found on Steam.
NOTE: A new version of Compatibility Report, which is a separate modification, was released in October. So make sure you are subscribed only to this "continuation" and that you have deactivated the subscription for the original tool!
Copies and saves
The developers also recommend making backups of the cities, so that you can recover them in case of issues with mods. You'll find the files in the game's data folder ("Colossal Order\Cities_Skylines\Save").
However, if you have already loaded your game, immediately create a new save file from the game menu. With any luck, this will save you from overwriting the automatic save along with errors.
Cancelling your subscription or dropping out of Steam Workshop
Of course, you also need to make sure that you have the latest versions of the mods installed. For those not yet (or already) supported, we can either cancel their subscription, or temporarily play in unmodified mode.
The latter solution requires adding the "-noWorkshop" command to the game's launch options, available in the "Properties" window (visible after right-clicking on the Cities: Skylines in the list of games), under the "General" tab. More information can be found on the platform's technical support page.
Let us mention that disabling mods in the content manager does nothing - there may still be problems during the game. If you want to check the current list of non-working modifications, the developers have provided a Google document containing information on (un)compatible fan creations.