News
Opinions
19 April 2023, 18:10
Instead of XCOM 3, I got Shadowgunners, and That's Totally Cool
The new turn-based strategy Showgunners follows the path paved by Firaxis Games, which reinvented the genre. It's very dynamic, but also quite predictable.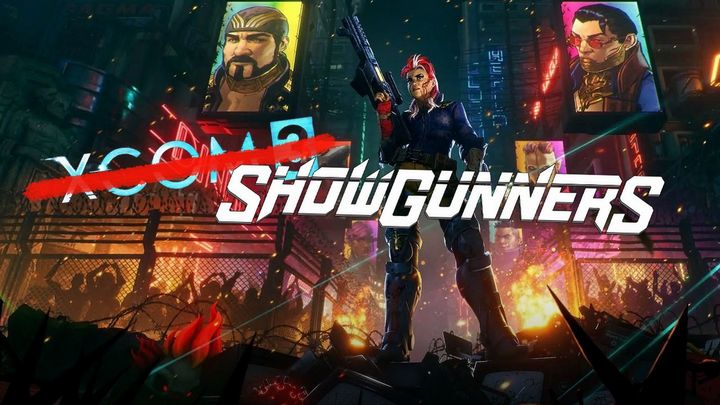 Source: Good Shepherd Entertainment
i
XCOM 3 is not coming anytime soon. Jake Solomon announcing this in an interview, and subsequently quitting Firaxis Games, was one of the worst news of 2022 for me. In the meantime, the development team focused on Civilization VII, announced some time ago. Not surprisingly, Midnight Suns – which sold a million copies in its first week of release – is considered a flop by the Take 2 boss. By the way, XCOM 2 only sold half as well in the same time frame.
So yeah, the life of a strategy fan isn't easy these days. It's time to look for alternatives. And this preview is about one of them. This game positively surprised me, which is quite the accomplishment in case of an old-timer like me. I'm talking Showgunners or – as the game was called before it was retitled for marketing reasons – Homicidal All-Stars.
Let the game begin
However, the old title was retained in the production. It became the name of the futuristic TV show, in which criminals face each other off in arenas trying to win suspension of their sentence. The single-player story campaign, the game's only mode, gives us control over Scarlett, an ex-cop with a rather depressing history. In order to exact bloody revenge on the game's villain, she must fight for survival in a series of linear missions.
The showrunner, on the other hand, is inventing new obstacles to frustrate her efforts. Supposedly surprising plot twists introduce new opponents, and it can turn out that the level we're in is mined, for example. Once this happens, a countdown commences and you have to hectically look for buttons to press to stop it. So yeah, Showgunners has some time-constrained sequences, but there's fewer of them than in XCOM 2, and they're more forgiving.
The turn-based combat is extremely similar to Firaxis' gameplay systems, or the quasi-predecessors of Showgunners, the likes of Phantom Doctrine and Hard West (some of their creators founded the Artificer studio after internal friction became too great in CreativeForge Games).
Unlike those games, however, we also control the protagonist and up to three other heroes outside of battles, in real time and inside three-dimensional locations, a bit like in jRPGs – if you get ambushed in designated places or enter the combat arena, a short loading screen will appear, and you'll proceed into a turn-based scuffle.
In-between missions, we visit the base where Scarlett and her team rest, but – unlike in XCOM – we don't build anything here; we only talk to NPCs and learn more about the story, which is actually quite decent.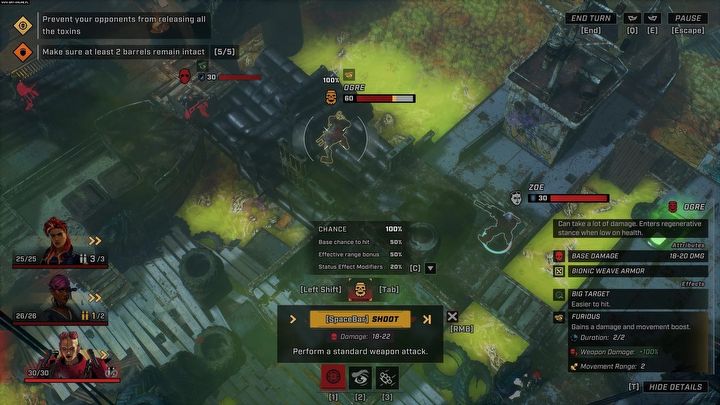 Anyone who has played new installments of XCOM will instantly feel at home in Showgunners.Showgunners, Good Shepherd Entertainment, 2023
As linear as Call of Duty
If you're attached to XCOM's freedom, however, you may find it hard to enjoy Showgunners, which, unlike the latter, does't offer nearly the same amount of procedurally-generated quests with near-infinite variables and decisions to make.
Artificer studio's new game barely leaves an inch of margin of freedom next to the designated paths. Each of the maze-like levels has several extra arenas and hidden treasure chests waiting to be collected.
Essentially, however, the available options are very limited, even when it comes to equipment. Weapons and implants that provide minor bonuses are tied to individual characters and cannot be creatively distributed. The characters are also functioning in a very rigid framework, while unlocking subsequent upgrades on the skill tree is very easy and doesn't require making any choices.
In addition, essential strategic elements are missing – you can't even choose between several available missions, and for at least the first three hours, you have no influence on the team composition at all.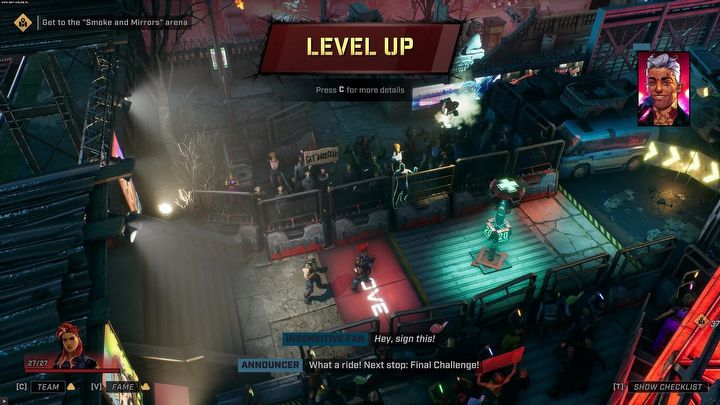 Showgunners offers some nice solutions that XCOM didn't even think of.Showgunners, Good Shepherd Entertainment, 2023
Lots of potentially good ideas
Does this sound disappointing? If so, that's great, because now, I can finally introduce the plot twist, and explain why I've enjoyed Showgunners so much despite all these setbacks. First of all, the game uses a nice idea of us contacting "the outside world." The creators have gone a long way to maintain a strong illusion of participating in a TV show.
We have an omnipresent commentator, fans asking for autographs, and a culmination in the form of all sorts of traps that the inexperienced participants fall into. From hidden explosive devices to blades traps and motion-triggered flamethrowers, Scarlett's life is in constant danger, even when she's not in the middle of a fight.
All this constitutes an amazing break from the rigid gameplay and brings the experience closer to a role-playing game, even if the character development is limited and our decisions end with choosing the answers we give to fans during conversations.
Speaking of fans, Scarlett's reputation grows both by winning battles and completing challenges, for example taking down two enemies at once, and there are three sponsors to choose from in each of the five levels of fame. They provide special benefits, including reduced prices in weapon vending machines or additional items like grenades and first-aid kits.
First, however, you have to meet the requirements of the sponsor and, for example, act like an asshole when asked for an autograph. There are four different modes of behavior that Scarlett can opt for: friendly, fun, cool, and... let's just say sassy. It's not groundbreaking, but it's fun and it makes sense in the context of the story. It's obvious that the developers have thought this through well enough.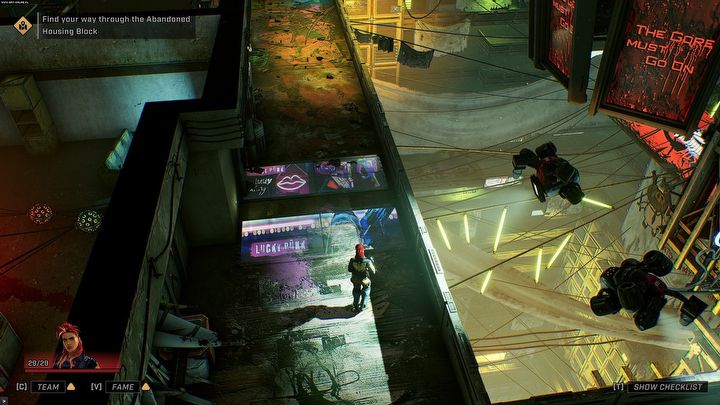 The cyberpunk areas are nicely lit and full of deadly traps.Showgunners, Good Shepherd Entertainment, 2023
Appetite for more
Combat as such can be described in a similar way. Every element of the interface is visibly inspired by solutions from other games, and the mechanics have been taken straight out of XCOM 2. However, there's also a few things that deviate from the usual formula.
By default, each character has a melee attack available – this is very practical, and sometimes even necessary, because there are some opponents that only become susceptible to firearms when they get a blow to the head.
Known from Mutant Year Zero: Road to Eden, the fast-forward feature will prove to be a blessing for impatient players, letting them reduce the waiting time during opponent's turns. The AI usually acts conservatively and carefully, and on the second of the four difficulty levels, doesn't use any fancy tactics, but at the same time it's not completely doomed to failure.
The arenas are hand-crafted, which, as lead game designer Jan Rawski explained to me, guarantees "higher quality [...] than procedurally-generated assets." As this would increase the system requirements, there are no destructible elements of the environment. As stated by Rawski, the ability to create holes in walls would jeopardize the quality of paths of movement, a critical element of the game.
Each of three available types of armor and weapons are particularly effective against another, promoting a little more careful approach to selecting the team's equipment, and each hero has a unique special ability, such as an area attack or disguising as enemies.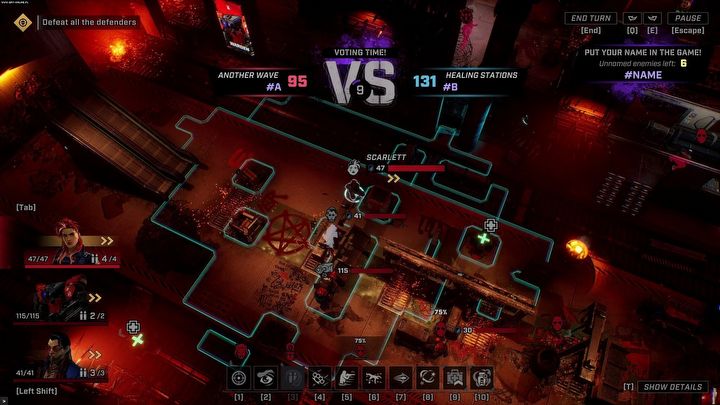 Shots have a certain chance of hitting the target. However, this should not create frustration like in XCOM 2. Especially since melee attacks always land.Showgunners, Good Shepherd Entertainment, 2023
The developers wanted to avoid the RNG (Random Number Generators) as much as possible. Despite high chances of landing a shot, several shots in a row can sometimes miss, but otherwise the randomness has been "minimized," as assured by the main game designer in an interview. This is why all enemies are visible from the get-go, and there's no fog of war here in any form.
The fights are fast and fun. Nevertheless, Showgunners is in no hurry to reveal new opponents and systems to the player. XCOM 2, in turn, didn't even let you catch a breather, constantly bombarding you with exciting research options or new, dangerous enemies. Always threatened with mortal danger, the characters there have to reach designated locations, which only adds more pressure.
On the other hand, for most of the Showgunners story campaign, we're accompanied by just two other soldiers – so more complicated moves are not possible, which makes larger battles, with a dozen or so enemies, unnecessarily difficult (these happened around the three-hour mark). The full version of the game will bring seven playable characters, from which you can form any three- or four-person team.
Showgunners seems more mainstream than other representatives of the genre, and Jan Rawski describes it as "potentially hardcore." The final test will answer the question of whether a golden mean has indeed been found; the release of the game will take place on May 2, 2023. So, I keep my fingers crossed that I'll miss XCOM 3 a little less when that happens.
You can download Showgunners demo from Steam.