News
video games
29 April 2021, 13:49
Noodle Caves in Minecraft; Snapshot 21w17a Now Available
Minecraft received another snapshot with novelties from the Caves & Cliffs Update. From now on in the game we will find so-called noodle caves, and the developers have introduced a handful of improvements.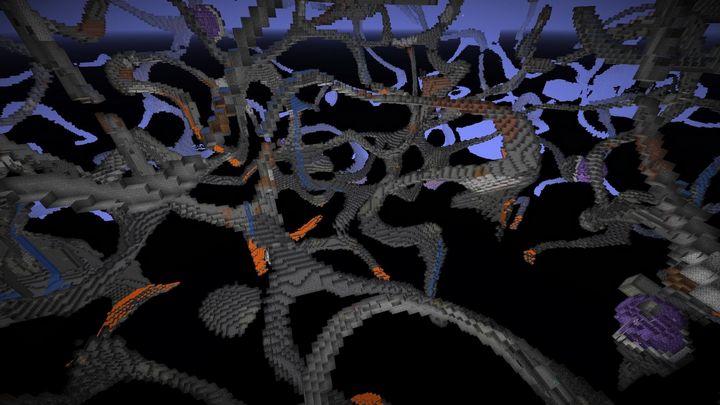 Studio Mojang released snapshot 21w17a for Minecraft, enabling us to test out more news from the upcoming Caves & Cliffs update. As before, access to this content requires activating snapshots in the Installations section. However, before enabling this option, we advise you to make a backup copy of your world or run sessions with the snapshot from a separate folder. There is a risk that enabling it will result in the loss of your creation!
Minecraft snapshots can introduce many new features, but sometimes they are limited to more or less important improvements. Fortunately, this time we received more than less. These are the so-called noodle caves, which owe their name to the long, pasta-like corridors. We've had similar underground variants before (spaghetti caves), but the new one is distinguished by much narrower and more twisted tunnels.
The creators have also changed the larger ore veins. They appear less frequently and are slightly smaller (though by no means small), and the blocks are more compact and less evenly spaced. Moreover, after breaking them, we will sometimesy get raw variants of a given metal. On top of that, there are some minor innovations, including the ability to place a small dripleaf on moss blocks and roots underwater. The recipe for copper blocks has also been changed - from now on we need not four, but nine bars to craft one. Fortunately, more of them drop from a single block of ore now: from 2 to 3 at worst and up to 12 when using Fortune.
As usual, apart from the novelties, the snapshot brought with it fixes of various bugs, both in the new content and what is already available outside the beta tests. For example, coal and copper blocks near Deepslate clusters finally appear in this patch. The textures of raw gold, iron and copper blocks have also been changed again. After the recent schedule change, the first part of Caves & Cliffs will debut in the summer, introducing, among other things, new mobs and blocks. For changes in the generation of Minecraft worlds (including higher mountains and the titular caves) we will have to wait until Christmas.
A new dimension of freedom - Minecraft review