News
video games
13 April 2022, 11:04
MythForce Disappoints Baldur's Gate Fans, but Others Like It
Beamdog, the studio known for refreshing old Baldur's Gate games, announced MythForce - an action game with roguelike elements, inspired by American cartoons from the 80s.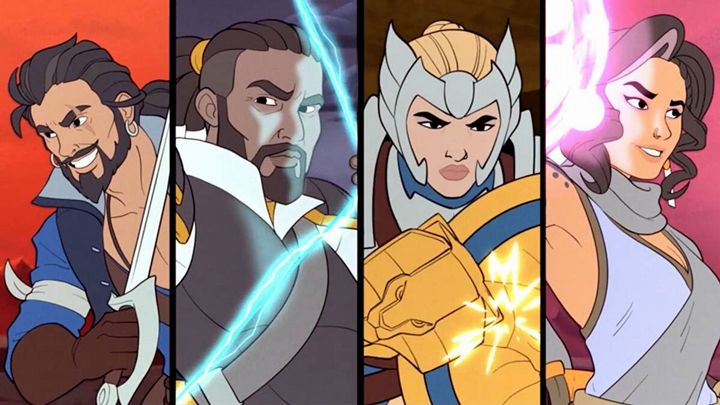 The day before yesterday, studio Beamdog, known for Baldur's Gate: Enhanced Edition, raised hopes of fans of old-school RPGs by announcing that it will soon reveal a new project. Players who expected another game of this type will be disappointed, because the freshly announced MythForce is something completely different.
MythForce - what we know about Beamdog's new game
Nevertheless, it's worth putting aside our disappointment, because the revealed project looks promising and quite original.
MythForce is a first-person action game with roguelike elements.
The game is coming exclusively to PC and will debut in early access on April 20, this year. It will be available only on Epic Games Store.
The game has a rather unusual visual style, modeled on American cartoons from the 1980s, such as He-Man.
Players will take on the role of adventurers, exploring undergrounds full of monsters and traps. We can play solo or in co-op mode.
Combat will be very arcade and we'll use melee weapons, bows and magic.
The dungeons will be randomly generated and offer fresh challenges each time.
As befits a roguelike, after death we'll have to start the game over again. However, we'll keep a part of our progress.
In addition, during the game we are to unlock permanent improvements and perks, which we'll use in subsequent sessions.
On April 20 the game will debut with the first episode of adventures, titled Episode 1: Bastion of the Beastlord. Subsequent chapters will be added in the form of early access updates. During their development, the creators are to take the suggestions of players into account.
A disappointment, but not unwelcome one
Many people expected something more in the style of Baldur's Gate from the new game of Beamdog, but there is also no shortage of more positive reactions. On Reddit players praise especially the atmosphere, modeled on old-school cartoons and the presence of a co-op mode. Doubts are raised by the quality of animation and the fact that while in early access the game will not be available on Steam.
At the end it's worth mentioning that the game's card has already appeared in Epic Games Store, thanks to which we know its system requirements.
MythForce PC - minimum system requirements
Processor: Intel Core i5-8400 or AMD Ryzen 3 3300X
Graphics card: Nvidia GeForce GTX 1050 or AMD Radeon RX 560
DirectX: 11
RAM: 8 GB
Disk space: 12 GB SSD
Operating System: Windows 10 64-bit
MythForce PC - recommended system requirements
Processor: Intel Core i7-8700K or AMD Ryzen 5 3600X
Graphics card: Nvidia GeForce GTX 1080 or AMD RX 5600 XT
DirectX: 11
RAM: 16 GB
Disk space: 12 GB SSD
Operating System: Windows 10 64-bit