News
video games
28 March 2023, 14:34
Steam Next Fest Winner Terra Nil From BroForce Devs Launches Today
Terra Nil, the demo version of which conquered Steam last year, launches today. The "reverse city builder" is collecting very high ratings from critics.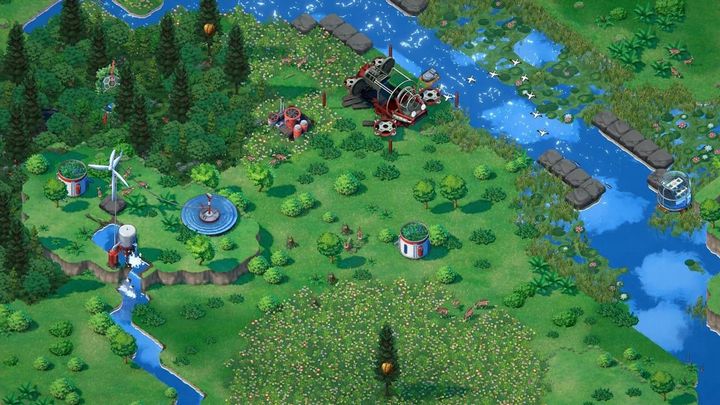 The original hybrid of puzzle and strategy game, and one of the phenomena of last year's Steam Next Fest, launches today. Tens of thousands of players are waiting for this game.
A game about saving a destroyed ecosystem
Terra Nil will debut on PC (Steam, GOG, Epic) and mobile devices (Android, iOS) at later today. The title can still be pre-ordered (in the Deluxe version, which includes the soundtrack and digital album). On iOS, the game will be available for free, but only if you subscribe to Netflix.
If you are not convinced to buy the game, perhaps the demo version will change your attitude. During last year's Steam Next Fest it gained a lot of publicity - at one point it was played by as many as 96,000 users simultaneously.
Terra Nil is based on the principles of "reverse city builder" - instead of expanding the city, we have to transform an unfit patch land into a functioning ecosystem. To do this, we will come to clean the soil and water, plant trees and fill the area with wildlife. When the work is done, we will remove the equipment we used and recycle it. The title offers a system of randomly generated maps, isometric camera, eye-pleasing graphics and a relaxing soundtrack.
Excellent ratings
Critics who have already had a chance to play Terra Nil, rate the title very highly. They praise the addictive and relaxing gameplay, the nice visuals, as well as the variety of tasks. The biggest drawback is the small amount of content, including buildings and missions.
Terra Nil boasts an average rating of 80% for the PC version on Metacritic. Here are selected reviews:
The Games Machine - 89/10
LevelUp - 88/10
PC Invasion - 8.5/10
Noisy Pixel - 8.5/10
Press Start - 8.5/10
Gamepressure - 8/10
PC Gamer - 8/10
IGN - 8/10
Screen Rant - 3.5/5
Terra Nil - system requirements
The title, despite its simple cartoonish visuals has quite high requirements.
Minimum requirements
Processor: Intel Core I5-4590 3.3 GHz or AMD FX-8350 4.0 GHz.
Graphics card: GeForce GTX 760 or Radeon RX 560
RAM: 8 GB
Recommended requirements
Processor: Intel Core I7-6950X or AMD Ryzen 5 2600
Graphics card: GeForce GTX 1080 or Radeon RX 5700 XT
RAM: 8 GB
The title will take up 2 GB of hard drive space after installation. The game is optimized for Windows 7 and later (64-bit versions).