Saints Row IV Expansions & DLCs
Game Expansions and DLCs available for Saints Row IV Video Game.
Game Expansions for Saints Row IV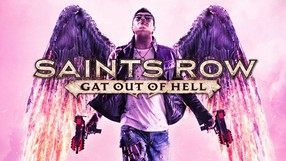 Saints Row: Gat out of Hell
Action 23 January 2015
A stand-alone expansion to the fourth installment of the series of crazy action games, Saints Row, developed since 2006 by Volition studio. The protagonist of the expansion is Johnny Gat, a character well known by the fans of the series. Together with hacker Kinzie Kensington he literally goes to hell and back. The pair of characters is tasked with saving the leader of the Saints gang who was chosen by the lord of hell as fiancé for his daughter. The title remains an action sandbox game filled with absurd humor. This time the virtual streets of Steelport were replaced with hellish areas of the city of New Hades. The title features much heavier, metal music. The progress in the game is achieved by completing missions which increase the level of Satan's anger. New crazy weapons were added to the inventory (including a chair with miniguns) and there are new enemies to defeat. In fighting them the protagonist can use new superpowers – including the very useful angel wings.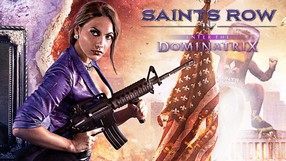 Saints Row IV: Enter the Dominatrix
Action 22 October 2013
The first story expansion for Saints Row IV, the fourth installment of the popular series of sandbox action games developed by Volition studio. Saints Row IV: Enter the Dominatrix presents an alternative version of events told in the basic game. The main theme of the expansion is an invasion of the space empire of Zin on Earth. The leader of the aliens puts the Saints in a virtual reality controlled by the crazy artificial intelligence known as Dominatrix. The gang must stop the crazy simulation and escape the trap. Along the way the heroes will forge fragile alliances and meet good old friends. As usually in the series, the gameplay is filled with unique humor and brutal combat in which one uses crazy weapons. Saints Row IV: Enter the Dominatrix expansion introduces new weapon types, enemies and allies. The game also offers new superpowers, which were an important new feature in Saints Row IV.
DLCs for Saints Row IV
PCX360PS3PS4XONESwitch
Stone Age Pack
DLC 15 January 2014
PCX360PS3PS4XONESwitch
How the Saints Save Christmas
DLC 11 December 2013
PCX360PS3PS4XONESwitch
Thank You Pack
DLC 12 November 2013
PCX360PS3PS4XONESwitch
Enter the Dominatrix
DLC 23 October 2013
PCX360PS3PS4XONESwitch
Commander-In-Chief Pack
DLC 25 September 2013
PCX360PS3PS4XONESwitch
Volition Comics Pack
DLC 25 September 2013
PCX360PS3PS4XONESwitch
Wild West Pack
DLC 18 September 2013
PCX360PS3PS4XONESwitch
GAT V Pack
DLC 18 September 2013
PCX360PS3PS4XONESwitch
Dubstep Gun (Remix) Pack
DLC 04 September 2013
PCX360PS3PS4XONESwitch
Grass Roots Pack
DLC 29 August 2013
PCX360PS3PS4XONESwitch
Presidential Pack
DLC 28 August 2013