Assassin's Creed: Unity Expansions & DLCs
Game Expansions and DLCs available for Assassin's Creed: Unity Video Game.
Game Expansions for Assassin's Creed: Unity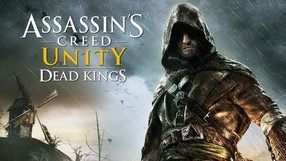 Assassin's Creed: Unity - Dead Kings
Adventure 13 January 2015
The first DLC expansion for Assassin's Creed: Unity. The add-on is included in the season pass for the game. It takes place after the events presented in the base version of the game and takes the player from the streets of Paris into the dark catacombs of Saint-Denis. There Arno becomes part of a new intrigue related to the tomb raiders who are profaning the tombs of French kings in order to find valuable treasures. The game mostly takes place in the large undergrounds inhabited by various wild animals. While traveling through the dark metropolis, Arno is facing enemies and solving puzzles that are taking him closer to solving the mysteries of the area. The graphics and the story are much darker than those of the base game. It is worth mentioning that the protagonist can use a new weapon, the guillotine gun.
DLCs for Assassin's Creed: Unity
PCPS4XONE
Secrets of the Revolution
DLC 21 January 2015
PCPS4XONE
Revolutionary Armaments Pack
DLC 28 November 2014