Two Worlds II Expansions & DLCs
Game Expansions and DLCs available for Two Worlds II Video Game.
Game Expansions for Two Worlds II

Two Worlds II: Echoes of the Dark Past 2
RPG today, 19 July 2018
A multiplayer Two Worlds II expansion pack. In Echoes of the Dark Past 2, we help the Vanderbilt mercenaries or side with the Veneficus University expedition trying to reach the ancient tomb build by Tenebrae.

Two Worlds II: Echoes of the Dark Past
RPG 07 December 2017
A non-standalone expansion to Two Worlds II, in which players get to explore ancient ruins located in the eastern part of Antaloor. This add-on introduces three new maps to the multiplayer mode, over three hundred pieces of gear, and entirely new opponents. To top it all, this DLC improved the overall look of the weapons and introduces players to the soundtrack that accompanies them on their adventures.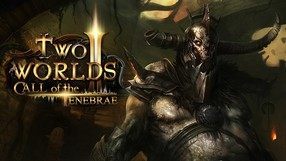 Two Worlds II: Call of the Tenebrae
RPG 15 June 2017
The second major expansion to Two Worlds II – third-person fantasy RPG created by the Polish studio Reality Pump. Call of the Tenebrae was released six years after the core game, along with a remastered version of the latter, so it offers better graphics than the original title. Main focus of the DLC's story is the new enemy – a vile race of sapient rat-like monsters, serving some even more powerful creatures that seek to destroy the world of Antaloor. You have to assemble your allies – both old friends and new characters – and stop this threat. Call of the Tenebrae offers a dozen or so hours of gameplay. The adventure takes place in various new locations where you can find new items, learn new skills and encounter new enemies. Although the DLC has large amount of single player content, it offers no upgrades for the multiplayer mode.

Two Worlds II: Pirates of The Flying Fortress
RPG 20 September 2011
An expansion for the second installment of the action RPG series by Reality Pump, a Polish development studio. Two Worlds II: Pirates of The Flying Fortress offers a new campaign that takes place in a previously uncharted area. The plot of the add-on is focused on a pirate captain and his crew who are confined on a cursed archipelago. The player helps the corsair save his beloved, find the legendary treasure, and suppress a mutiny on his ship. Of course, the story is non-linear, concluding with one of three endings. Gameplay-wise, the expansion introduces changes in the alchemy system, enables the player to steer a boat, adds new kinds of weapons and enemies, including powerful bosses, such as a Basilisk or a Stone Golem, who require the player to conduct a research on their weaknesses in order to defeat them. Apart from the single player campaign, Pirates of the Flying Fortress offers four new multiplayer maps for the Adventure mode. Moreover, the add-on slightly improves the graphics and introduces new, dynamic weather effects.
DLCs for Two Worlds II
PCX360PS3
Multiplayer Map Pack 1
DLC 26 October 2011