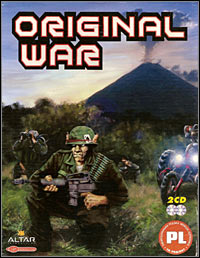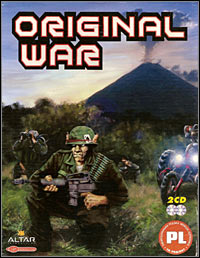 Original War
PC
This is a very interesting strategy game by Altar Interactive, which, thanks to a skillful combination of RTS and cRPG game elements, definitely stands out from competitive productions.
Original War

Release Date PC

15June2001
developer: Altar Interactive publisher: Virgin Interactive Official website

game language: English
The game developed by Altar Interactive company, skilfully combining features belonging to the RTS and RPG genres. The unusual and at the same time absorbing story takes us to the year 2010, when Russia has once again fallen into the trap of nationalism. The country is on the brink of an economic and political crisis, threatening all of civilised Europe militarily. To prevent the growing crisis, the Americans send an expedition to Siberia to discover new oil reserves. Instead, they find huge deposits of a strange mineral. It turns out that it is a practically inexhaustible source of energy.
The Americans decide to act quickly before the Russians realise what is going on. So they send special units into the past to extract the mineral and store it in Alaska. Unfortunately, the Arab governments, fearing falling oil prices, stole a sample of the mineral, called EON, and also sent a team into the past to destroy its deposits. Years later, the Russians find the remnants of these two expeditions, along with half depleted deposits of the mineral. When they realised what had happened, they decided to send an expedition themselves in time to defend EON from attack by Americans and Arabs.
Thus, non-linear and demanding missions await us, whose diverse objectives may consist, for example, of capturing a prominent scientist working for the enemy side of the conflict. We have at our disposal a fixed, limited number of soldiers, who are characterised by individual factors and features, increasing with gaining war experience. The game is characterised by rare freedom in configuring new units, and a large number of vehicles and weapons used by our people. The system of acquiring resources is also interesting.
Game mode: single / multiplayer Multiplayer mode: Internet
Media type: 2 CD
User score: 8,8 / 10 based on 3736 votes.
PEGI rating Original War
Original War System requirements
Recommended:
Pentium II 300MHz
64MB RAM