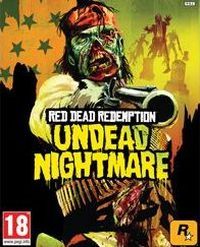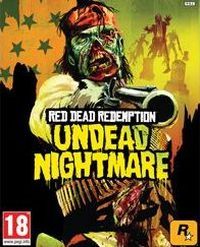 Red Dead Redemption: Undead Nightmare
Released in retail distribution, Red Dead Redemption: Undead Nightmare is a standalone bundle of expansion packs to a best-selling action game Red Dead Redemption. As the title suggests, it combines the distinctive Western setting with the evergreen theme of zombie apocalypse.
This is Red Dead Redemption expansion pack.
Red Dead Redemption: Undead Nightmare for PS3 and X360 is a standalone pack of add-ons for the action game Red Dead Redemption, distributed in retail. Undead Nightmare includes such DLCs as Undead Nightmare Pack, Outlaws to the End Co-Op Mission Pack, Legends and Killers Pack, Liars and Cheats Pack, as well as the content introduced in the Multiplayer Free Roam update.
The key element of the bundle, to which the pack owes its name, is the Undead Nightmare Pack DLC; it also serves as a brand new single player campaign. Playing as John Marston, the protagonist of the base game, you search for a cure for an ongoing zombie infestation. To fight off four different types of the undead you can use a new weapon: Blunderbuss (a short-barreled shotgun) that shoots zombie remains. On your way you may also encounter infected animals, especially dangerous when you are traveling on foot.
The expansion also brings forth new types of challenges, missions, and events, e.g. Missing Persons, in which you try to find and save people who might yet be alive. Moreover, fans of online gameplay can enjoy the Undead Overrun Mode, in which players cooperate to fight off waves of zombies.
Outlaws To The End Co-Op Mission Pack offers six new co-op missions. In one of them, The Escape, you have to attack bandits, capture the gold they are carrying and a Gatling gun, turn these in to the American Army, and then clear the town of Tumbleweed of the remaining outlaws. On the other hand, in the mission called The Herd you have to herd cows into Armadillo. This, however, is not as easy as it would seen, because you are constantly being attacked by enemy snipers and horsemen.
Legends and Killers Pack is dedicated to the fans of multiplayer, as it contains nine new maps and eight playable characters for online gameplay; it also includes a new throwing weapon – Tomahawk axe (usable in single player).
Liars and Cheats Pack is a different type of add-on, as it offers Liars Dice and Poker mini-games, designed for online gameplay, multiplayer horse races, a new weapon, the Explosive Rifle, and its challenges in both single and multiplayer, 7 new gang hideouts, 4 hunting zones, multiplayer Stronghold Competitive Mode (turn-based fight over hideouts), as well as 15 characters known from the single player campaign made playable in multiplayer.
Game mode: single / multiplayer Multiplayer mode: Internet
Media type: 1 DVD
User score: 8,1 / 10 based on 568 votes.
Pre-release expectations: 8.3 / 10 based on 222 votes.
PEGI rating Red Dead Redemption: Undead Nightmare
Red Dead Redemption: Undead Nightmare System requirements
Uses:
PlayStation Network