Titan Quest Video Game Series
Video Games Encyclopedia by Gamepressure.com

Titan Quest: Legendary Edition
RPG 02 February 2021
Complete mobile edition of Titan Quest with all available DLC: Immorthal Throne, Ragnarok and Atlantis. Titan Quest: Legendary Edition does not introduce drastic changes in comparison to the original, but adapts the game for mobile devices.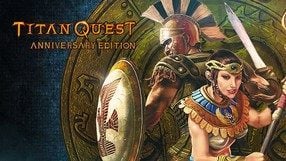 Titan Quest: Anniversary Edition
RPG 31 August 2016
A new edition of Titan Quest, a classic hack-and-slash, bundled with its official expansion Immortal Throne, prepared for the 10th anniversary of the release. The plot takes place in ancient times, and is based on stories from Greek, Egyptian, Babylonian, and Chinese mythologies. The players assume the role of a hero, who is tasked with finding a way to imprison the Titans, who've managed to escape after years of imprisonment, and are now causing mayhem and destruction on Earth. The reedition was developed as a joint venture between the original developers – Iron Lore studio and THQ Nordic. In total, Titan Quest Anniversary Edition contains 1261 changes, including, for example, a better balancing of individual classes, abilities, weapons, and items. Other changes include: a better non-player character AI, greater equipment capacity, or an improved loot system. Aside from that, the game incorporates a large group of new enemies and bosses. The visuals underwent only symbolic changes, but they are still eye-catching, despite the passage of the time.

Titan Quest
RPG 26 June 2006
An isometric action-RPG from the hack'n'slash genre, developed by the team at Iron Lore led by Brian Sullivan – co-creator of the iconic classic, Age of Empires. Titan Quest takes us to ancient Greece and Egypt, when the eponymous titans get released from their eternal imprisonment to spread death and destruction across the Earth. In fight between new and old gods, the world's fate rests on shoulders of a single human, who travels across the lands looking for a way to seal titans once again. We visit numerous mythological places, like Parthenon, Knossos, the Labyrinth, Egyptian pyramids or the Hanging Gardens of Babylon, fighting hordes of diversified enemies as well as titans themselves. The players are given a vast arsenal of more than a thousand unique and legendary items. Our character can improve his or her skills throughout the game, due to a flexible class system that offers close to unlimited possibilities of development.